Persisting Speech Difficulties in Children: Children's Speech and Literacy Difficulties, Book 3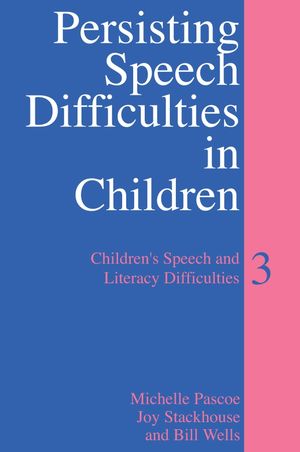 Persisting Speech Difficulties in Children: Children's Speech and Literacy Difficulties, Book 3
ISBN: 978-0-470-02913-8 May 2006 460 Pages
Description
This is the third book in the series  "Children's Speech and Literacy Difficulties" and is based on research and practice with school-age children with persisting speech and associated difficulties. It focuses on the psycholinguistic nature of their difficulties, how to design intervention programmes, and how intervention outcomes might be measured. It will serve as a practical handbook and will contain usefuls word lists, tips and photocopiable sheets in the appendix.
Each chapter will summarise recent research findings and close with a bulleted summary of the main points in the chapter.
Provides an explanation of the psycholinguistic approach and how to implement it, and integrate it with other approaches.
Includes case studies
Table of contents
Foreword.
Preface.
Acknowledgements.
Chapter 1: Persisting Speech Difficulties.
Chapter 2: Theory, Therapy and Methodology.
Chapter 3: Stimuli Design: Segments in Single Words.
Chapter 4: Working on Segments in Single Words.
Chapter 5: Stimuli Design: Consonant Clusters in Single Words.
Chapter 6: Working on Consonant Clusters.
Chapter 7: Stimuli Design: Connected Speech.
Chapter 8: Working on Connected Speech.
Chapter 9: Generalisation.
Chapter 10: Linking with Literacy.
Chapter 11: Intelligibility.
Chapter 12: Evaluating Intervention Outcomes.
Chapter 13: Service Delivery Issues.
Chapter 14: Putting the Speech back into Speech Therapy.
Appendix 1: Speech processing profile.
Appendix 2: Updated List of Examples of Tests for Each Question in the Psycholinguistic.
Assessment Framework.
Appendix 3: Speech processing model.
Appendix 4: Template for Journal Review.
Appendix 5: Examples of Core Vocabulary used with a child with PSDs.
Appendix 6: Sample minimal pair lists.
Appendix 7: Pro-forma for describing therapy tasks.
Appendix 8: Child interview questions. 
Glossary.
References.
Index.