Person-Centred Counselling and Christian Spirituality: The Secular and the Holy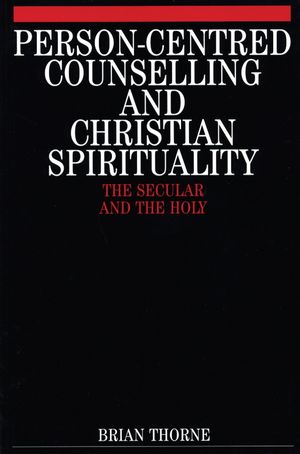 Person-Centred Counselling and Christian Spirituality: The Secular and the Holy
ISBN: 978-1-861-56080-3 March 2008 176 Pages
Description
This second volume of Brian Thorne's collected works, shows convincingly that the spiritual needs and yearnings of many clients presenting themselves to secular counsellors can no longer be ignored, trivialised or pathologised. The book constitutes an impassioned plea both to person-centred therapists to acknowledge the centrality of spiritual issues for many of their clients and also to Christians to embrace the richness of their spiritual tradition without becoming entangled in the death-dealing complexity of religious and institutional power-mongering.
Part I - Behold The Man - Introduction.
1. Corporate Betrayal.
2. Jesus and The Evil of Religion.
3. Jesus and Political Power.
4. Jesus and those Under Authority.
5. Jesus and Women.
6. The Divinisation of Humanity.
7. A Therapist's View of The Passion Narrative.
8. The Personality of Jesus and the Process of Therapy.
Part II - Person-centred Counselling AND The Spiritual dimension - Introduction.
9. Counselling and The Spiritual Journal.
10. The accountable Therapist, Standards, Experts and Poisoning The Well.
11. The two carls, Reflections on Jung and Rogers.
12. Beyond The Consulting Room.
13. Spirituality and The Counsellor.
14. Body and Spirit.
15. Developing a spiritual Discipline.
16. The Counsellor as Prophet. Part Iii, ALL Shall BE well Introduction.
17. Julian of Norwich, Radical Psychotherapist.
18. Foreword to 'sin Shall be a Glory'.
19. Happiness in Relationships.
20. Time, Friend or enemy?
Part IV - The Sermons OF A Person-centred Counsellor Introduction.
21. A sermon Preached in The Chaplaincy of The University of East Anglia All Saints day.
22. A Sermon on St Paul Preached in The Chapel of Trinity College, Cambridge.
23. A Sermon Preached in Leicester Cathedral on World Aids Day.
24. Jesus, The Incarnation of Holiness, a Series of Three Addresses Preached in Norwich Cathedral During Epiphany Time - i) Jesus and Embodiment, ii) The Mind of Jesus, iii) The Spirit of Jesus.
25. A Sermon Preached in King' s College chapel, Cambridge on Pentecost Sunday.
Postscript.
Author Index.
Subject index.