Personal Connections in the Digital Age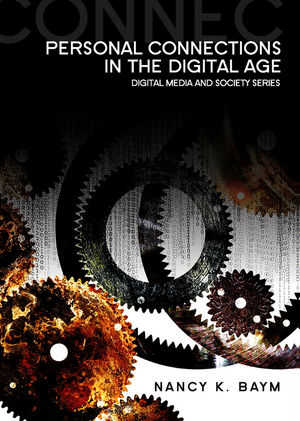 Personal Connections in the Digital Age
ISBN: 978-0-745-65619-9
May 2013, Polity
192 pages
Product not available for purchase
Description
The internet and the mobile phone have disrupted many of our conventional understandings of our selves and our relationships, raising anxieties and hopes about their effects on our lives. This timely and vibrant book provides frameworks for thinking critically about the roles of digital media in personal relationships. Rather than providing exuberant accounts or cautionary tales, it offers a data-grounded primer on how to make sense of these important changes in relational life.

The book identifies the core relational issues these media disturb and shows how the ways we talk about them echo historical discussions about earlier communication technologies. Chapters explore how we use mediated language and nonverbal behavior to develop and maintain communities, social networks, new relationships, and to maintain relationships in our everyday lives. It combines research findings with lively examples to address questions such as whether mediated interaction can be warm and personal, whether people are honest about themselves online, whether relationships that start online can work, and whether using these media damages the other relationships in our lives. Throughout, the book argues for approaching these questions with firm understandings of the qualities of media as well as the social and personal contexts in which they are developed and used.

Personal Connections in the Digital Age will be required reading for all students and scholars of media, communication studies, and sociology, as well as all those who want a firmer understanding of digital media and everyday life.
List of illustrations.
Acknowledgements.
CHAPTER ONE: New forms of personal connection.
CHAPTER TWO: Making New Media make sense.
CHAPTER THREE: Communication in digital spaces.
CHAPTER FOUR: Communities and Networks.
CHAPTER FIVE: New relationships, new selves?
CHAPTER SIX: Digital media in relational development and maintenance.
CONCLUSION: The myth of cyberspace.
REFERENCES.
"Combining in-depth knowledge of the topic based on decades of Baym's own and others' research with a clear, concise and straightforward writing style that makes it a joy to read, this is the kind of accessible book that many academics would love to have written."
Times Higher Education
"Lively and thought-provoking throughout, this book challenges the myth that 'cyberspace' dramatically transforms personal connections by revealing, instead, the complex and subtle ways in which people manage social interaction online and offline in response to the affordances of the various modes of communication available."
Sonia Livingstone, London School of Economics and author of Children and the Internet
"Something is happening. Do you know what it is? Nancy Baym does, with a book bristling with ideas and authority. Filled with clear, lively writing, she both surveys and advances the field. I learned so much."
Barry Wellman, University of Toronto
"Baym provides us a clear, concise, and thought-provoking discussion of the role of new digital media our interpersonal and societal relationships. She creates a welcome blend of her own and others' research, the affordances and capabilities of new media, historical and technical contexts of the telegraph through the Internet, stable as well as changing societal norms, and her own Internet experiences."
Ronald E. Rice, University of California, Santa Barbara
Introduction to the roles played by digital media such as the internet and mobile phone in personal relationships.
Covers a breadth of relationships, from friendships through online dating to communities and social networks.
Uses a wealth of contemporary examples to ask questions such as whether online interaction can be warm and personal and whether using these media damages the other relationships in our lives.
Written as a primer for undergraduates by one of the leading scholars in the field of digital media studies.
Combines a data-grounded approach with broad social-theoretical context.