Personal Construct Theory in Educational Psychology: A Practitioner's View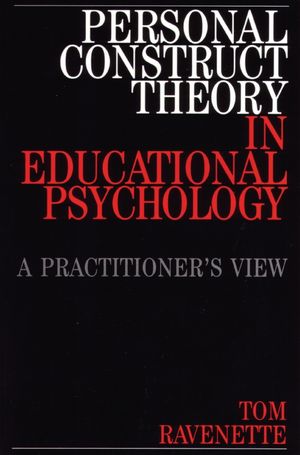 Personal Construct Theory in Educational Psychology: A Practitioner's View
ISBN: 978-1-861-56121-3
May 1999
250 pages
Description
This book is a selection of papers by the author, a professional psychologist who operated a school psychological service. They represent the development over some forty years of a psychological practice based on the then relatively unknown Personal Construct Theory of George Kelly. Tom Ravenette has adjusted and extended this theory to make it fully useful in the author?s own context.
Prologue - Everyone his own Scientist or Behaviour is an Experiment.
Reading Difficulties and What Else?.
Psychologists.
Teachers and Children - how many Ways to Understand?.
Motivation, Emotional Blocking and Reading Failure - a Unifying Point of View.
Personal Construct Theory - an Approach to The psychological Investigation of Children and Young People.
The Exploration of consciousness - Personal Construct Theory and Change.
Specific Reading difficulties - Appearances and Reality, to Tell a Story, to Invent a Character, to Make a Difference.
"Never, Never, Never Give Advice" - an Essay in professional Practice.
A Drawing and its Opposite - an Application of The notion of The "construct" in The Elicitation of Children' s Drawings.
The recycling of Maladjustment.
Personal Construct Psychology and Practitioners who work With Children.
Personal Construct Psychology in The Practice of an educational Psychologist.
Personal Construct Psychology and The Assessment of young People.
The "one-off" Interview, who are You? - a Structure for exploring a "sense of Self".
Asking Questions Within a Personal Construct framework.
Triadic Elicitation - Academic Exercise or key to Experiencing? A minipaper
Transcending The Obvious and Illuminating The Ordinary - Personal construct Psychology and Consultation in The Practice of Educational psychology.
What Would Happen if? - Personal Construct Psychology and psychological Intervention.
Epilogue - an Answer to a "lifer' s Three questions".