Personal Relationships: Implications for Clinical and Community Psychology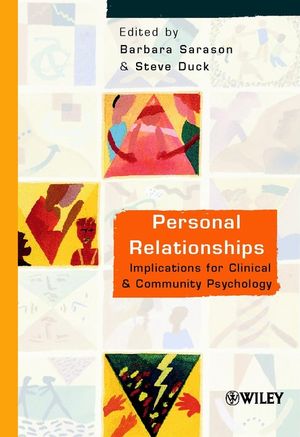 Personal Relationships: Implications for Clinical and Community Psychology
ISBN: 978-0-471-49161-3
Dec 2000
324 pages
Description
What role do relationships play in the individual's health and the functioning of families and communities? Recent research indicates that relationships are important not only to individuals' well-being, but also to families, whilst their importance in the functioning of communities is only beginning to be recognized and investigated in a systematic way.
Each chapter is focused on a cutting-edge application of the personal relationships perspective relevant to clinical and community psychology. The book addresses such issues as the effect of close personal relationships on health outcomes, the impact of genetic testing, family relationships and major mental disorders, and social support dynamics in adjustment to disasters. Theoretical viewpoints and research findings, as well as intervention strategies, are presented on a variety of levels from individual to family to community.
Personal Relationships: Implications for Clinical and Community Psychology is essential reading for researchers and scholars within the relationships field, students of clinical and community psychology, social work and psychological nursing.
About the Editors.

About the Authors.

Introduction (B. Sarason & S. Duck).

Weaving Social Support and Relationships Together (H. Badr, et al.).

Close Personal Relationships and Health Outcomes: A Key to the Role of Social Support (B. Sarason, et al.).

Genetic Testing and Family Relationships: Mutual Impact and Future Implications (A. Patenaude).

Family Relationships and Major Mental Disorder: Risk Factors and Preventive Strategies (J. Hooley & J. Hiller).

Interpersonal Processes, Attachment, and Development of Social Competencies in Individual and Group Psychotherapy (B. Mallinckrodt).

Distinguishing the Theoretical Functions of Social Ties: Implications for Support Interventions (K. Heller & K. Rook).

The Role of Personal Relationships in Transitions: Contributions of an Ecological Perspective (E. Trickett & R. Buchanan).

The Role of Relationships in Developmental Trajectories of Homeless and Runaway Youth (M. Paradise, et al.).

Yours, Mine, Ours: The Relational Context of Communal Coping (K. Mickelson, et al.).

Social Support Dynamics in Adjustment to Disasters (K. Kaniasty & F. Norris).

References.

Author Index.

Subject Index.