Personality Disorders in Childhood and Adolescence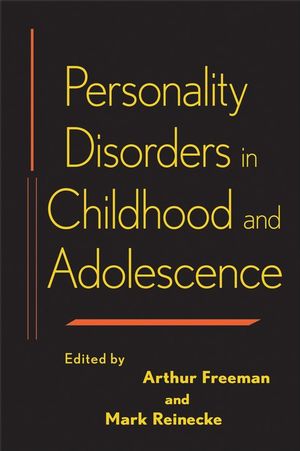 Personality Disorders in Childhood and Adolescence
ISBN: 978-0-471-68304-9 August 2007 744 Pages
Download Product Flyer
Download Product Flyer
Download Product Flyer is to download PDF in new tab. This is a dummy description. Download Product Flyer is to download PDF in new tab. This is a dummy description. Download Product Flyer is to download PDF in new tab. This is a dummy description. Download Product Flyer is to download PDF in new tab. This is a dummy description.
Description
Personality traits are pervasive and enduring patterns of the ways individuals perceive, relate to, think about, and behave within their environment. When these traits become inflexible and maladaptive they constitute personality disorders.

This edited volume will explore the clinical reality of personality disorders in the especially vulnerable population of children and adolescents. Chapters will cover topics such as aggression, attention-seeking, and the sensitive child.
Cannot be combined with any other offers.
Original Price:$244.50
Purchased together:$183.38
save $61.12
Table of contents
Preface.
Contributors.
PART ONE.
1. Introduction. (Arthur Freeman, Mark A. Reinecke, and Yuma I. Tomes)
2. The Role of Developmental Components in Treating Children with Personality Disorders.(Tammie Ronen)
3. Temperament and Personality Disorders in Childhood and Adolescence. (Joel Paris)
4. The Behavioral Model of Personality Disorders. (Robert A. DiTomasso, James B. Hale, and Stephen M. Timchack)
5. Personality Disorders: A Cognitive Developmental Perspective. (William J. Lyddon and Darlys J. Alford)
6. A Systemic Family Perspective on Child and Adolescent Personality Disorders. (Jeffrey J. Magnavita)
7. Assessment of Personality Disorders in Childhood (George McCloskey, Peter Kane, Carrie Champ Morera, Kathryn Gipe, and Amy McLaughlin)
8. Issues of Maltreatment and Abuse. (Cynthia Cupit Swenson, Elissa J. Brown, and John R. Lutzker)
PART TWO
9. Asperger's Disorder: Exploring the Schizoid Spectrum. (Tony Attwood)
10. The Development of borderline Personality Disorder: Current Progress and Future Directions.(Nicki R. Crick, Kathleen Woods, Dianna Murray-Close, and Georges Han)
11. The Narcissistic Child: When a State becomes a Trait. (Arthur Freeman)
12. Antisocial Personality Disorder. (Jeffrey D. Burke)
13. Histrionic Personality Disorder. (Thomas N. Crawford and Patricia R. Cohen)
14. Obsessive-Compulsive Personality Disorder: Developmental Risk Factors and Clinical Implications. (Martin E. Franklin, John C. Piacentini, and Carla D'Olio)
15.The Complex Pathway from Attachment to Personality Disorder: A Life Span Perspective on Interpersonal Dependency. (Robert F. Bornstein, Emil Becker-Weidman, Corey Nigro, Rebecca Frontera, and Mark A. Reinecke)
16. Avoidant Personality Disorder. (Joanna A. Robin, Sharon L. Cohan, James Hambrick, and Anne Marie Albano)
17. Negativistic Personality Disorder in Children and Adolescents. (Gina M. Fusco and Arthur Freeman)
18. Development and treatment of Personality Disorder: Summary. (Mark A. Reineck and Arthur Freeman)
Author Index.
Subject Index..
Reviews
"…offers a comprehensive review of the research and clinical approaches related to personality disorders in children and of child assessment more generally. Both as a text for students and a reference for experienced clinicians, it is a valuable resource." (PsycCRITIQUES, 7/2/08)
Features
1.  Provides measured treatment of a controversial topic: the diagnosable existence of personality disorders with children.
2.  Chapters will include clinical strategies, pharmacotherapy, and family treatment. 
3.  Chapters will address prevention and research issues.