Personality and Psychopathology: Building a Clinical Science: Selected Papers of Theodore Millon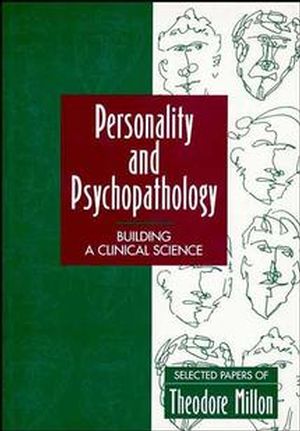 Personality and Psychopathology: Building a Clinical Science: Selected Papers of Theodore Millon
ISBN: 978-0-471-11685-1 October 1995 368 Pages
Description
Earlier assessments of Dr. Millon's work--

"Millon writes engagingly with a reverence for the history of ideas and for the steps necessary in the development of a scientific discipline." --Contemporary Psychology

"Millon stands tall among the most prominent figures in the field of psychopathology." --The Family Letter of the National Academy of Counselors and Family Therapists

Of related interest...

TOWARD A NEW PERSONOLOGY

An Evolutionary Model

Theodore Millon

Drawing on principles inherent in the physical and biological sciences, Theodore Millon explicates his groundbreaking theory of personality, its foundations, and its applications to the study of psychopathology. This innovative conceptual structure describes personality in terms of its basic survival and adaptive functions--especially in the polarities of pleasure/pain, passivity/activity, and self/other. This is an essential work for psychologists, psychiatrists, and personality researchers.

1990 (0-471-51573-6) 208 pp.

DISORDERS OF PERSONALITY

DSM-IV and Beyond

Second Edition

Theodore Millon and Roger D. Davis

Written by one of the world's leading authorities on personality disorders and an influential member of the DSM-IV Axis II Work Group, this book will serve as an indispensable companion to DSM-IV and the definitive guide to all the advances in the field since the publication of the first edition. Major revisions include an expansion of basic personality prototypes, an enlarged review of contemporary thinking on personality disorders, detailed material on frequent Comorbid Axis I and Axis II diagnoses, and more material on personality assessment and therapy, including an up-to-date review of available instruments.

1995 (0-471-01186-X) 768 pp.

One has to turn to the writings of Sigmund Freud and Carl Jung to find so systematic, profound, and seminal a body of work as that of Theodore Millon. A theorist of the first rank, he has authored numerous books of compelling clinical utility and insight.

In Personality and Psychopathology, Millon provides the reader with a coordinated series of papers that illustrate his unprecedented model for building a unified science of personology and psychopathology. In this effort, he seeks to integrate previously disparate components into a clinical science. Rather than developing independently and being left to stand as largely unconnected functions, Millon argues that a truly mature clinical science will embody explicit: 1) theories, that is, explanatory and heuristic conceptual schemes that enable the development of a formal 2) nosology, a taxonomic classification of disorders that is devised logically from the theory and which permits the development of coordinated 3) instruments, tools that are empirically grounded and sufficiently sensitive quantitatively to enable the theory's hypothesis to be adequately investigated, and from which target areas can be specified for 4) interventions, strategies and tactics of therapy designed in accord with the theory.

A series of groundbreaking papers comprise this creative work. Some connect personology to other scientific realms of nature, and others establish a series of thought-provoking "diagnostic criteria" for the concept of normality. The precision and logic for classifying psychopathologies comprise another classic article. A lively and insightful analysis of the borderline personality, explicated from a social learning perspective, serves as a refreshing counterpoint to the standard analytical model. No less bold are Millon's "Ten Commandments" for personologic psychotherapy, a richly articulated integration of contemporary treatment modalities.

Wise and witty, this future classic will furnish the field with both clinical and scientific mandates that are sure to have a powerful impact on psychological diagnosis and therapy for years to come.
Partial table of contents:

Personality Disorders: Conceptual Distinctions and ClassificationIssues.

THEORY.

Contemporary Theoretical Models.

An Integrative Theory of Personality and Psychopathology.

A Theoretical Derivation of Pathological Personalities.

TAXONOMY.

Classification in Psychopathology: Rationale, Alternatives, andStandards.

The DSM-III: Some Historical and Substantive Reflections.

On the Genesis and Prevalence of the Borderline PersonalityDisorder: A Social Learning Thesis.

INSTRUMENTATION.

On the Renaissance of Personality Assessment and PersonalityTheory.

MCMI: Substantive, Structural, and Criterion Validation.

INTERVENTION.

Issues and Methods of Psychological Treatment.

Personologic Psychotherapy: Ten Commandments for a Post-EclecticApproach to Integrative Treatment.

Indexes.