Personality and Work: Reconsidering the Role of Personality in Organizations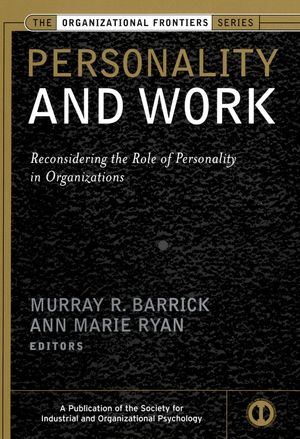 Personality and Work: Reconsidering the Role of Personality in Organizations
ISBN: 978-1-118-28982-2
Feb 2012, Pfeiffer
400 pages
Description
The subject of personality has received increasing attention from industrial/organizational psychologists in both research and practice settings over the past decade. But while there is an overabundance of information related to the narrow area of personality testing and employee selection, there has been no definitive source offering a broader perspective on the overall topic of personality in the workplace. Personality and Work at last provides an in-depth examination of the role of personality in work behavior. An array of expert authors discusses the connection of personality to a wide range of outcomes beyond performance, including counterproductive behaviors, contextual performance, retaliatory behaviors, retention, learning, knowledge creation, and the process of sharing that knowledge. Throughout the book, the authors present theoretical perspectives, introduce new models and frameworks, and integrate and synthesize prior studies in ways that will stimulate future research and practice.

Contributors to this volume include: Murray R. Barrick, Michael J. Cullen, David V. Day, Ed Diener, J. Kevin Ford, Lewis R. Goldberg, Leaetta Hough, Jeff W. Johnson, Martin J. Kilduff, Amy Kristof-Brown, Katherine E. Kurek, Richard E. Lucas, Terence R. Mitchell, Michael K. Mount, Frederick L. Oswald, Ann Marie Ryan, Paul R. Sackett, Gerard Saucier, Greg L. Stewart, Howard M. Weiss
Foreword (Neal Schmitt).
Preface.
The Contributors.
1. The Structure of Personality Attributes (Gerard Saucier, Lewis R. Goldberg).
2. The Happy Worker: Hypotheses About the Role of Positive Affect in Worker Productivity (Richard E. Lucas, Ed Diener).
3. Situational and Motivational Influences on Trait-Behavior Relationships (Murray R. Barrick, Terence R. Mitchell, Greg L. Stewart).
4. Toward a Better Understanding of the Relationship Between Personality and Individual Job
Performance (Jeff W. Johnson).
5. Dispositional Influences on Affective Experiences at Work (Howard M. Weiss, Katherine E. Kurek).
6. Personality and Counterproductive Workplace Behavior (Michael J. Cullen, Paul R. Sackett).
7. Toward an Understanding of the Multilevel Role of Personality in Teams (Greg L. Stewart).
8. Self-Monitoring Personality and Work Relationships: Individual Differences in Social Networks (David V. Day, Martin Kilduff).
9. Understanding the Dynamic Learner: Linking Personality Traits, Learning Situations, and Individual Behavior (J. Kevin Ford, Frederick L. Oswald).
10. Focusing on Personality in Person-Organization Fit Research: Unaddressed Issues (Ann Marie Ryan, Amy Kristof-Brown).
11. Emerging Trends and Needs in Personality Research and Practice: Beyond Main Effects (Leaetta M. Hough).
12. Research Themes for the Future (Michael K. Mount, Murray R. Barrick, Ann Marie Ryan).
Name Index.
Subject Index.