Perspectives on Creativity Development: New Directions for Child and Adolescent Development, Number 151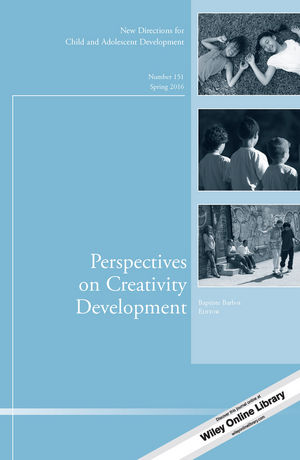 Perspectives on Creativity Development: New Directions for Child and Adolescent Development, Number 151
ISBN: 978-1-119-26331-9 March 2016 Jossey-Bass 128 Pages
Download Product Flyer
Download Product Flyer
Download Product Flyer is to download PDF in new tab. This is a dummy description. Download Product Flyer is to download PDF in new tab. This is a dummy description. Download Product Flyer is to download PDF in new tab. This is a dummy description. Download Product Flyer is to download PDF in new tab. This is a dummy description.
Description
Creativity development is a nonlinear and multifaceted process starting early in life. This new thematic issue incorporates recent insights into the intersection of creativity research and developmental science. Specifically, it addresses the development of creativity with a focus on childhood and adolescence with a multidisciplinary perspective, including developmental, neurobiological, intercultural, educational, psychosocial, and differential approaches.
Topics covered include:
The foundation of adult creativity in childhood and adolescence,
Developmental perspectives on the issue of domain generality–specificity of creativity,
The neurobiological basis of creativity in childhood and adolescence.
Commentaries by established proponents of the field integrate meaningfully these multiple insights on creativity development, as a reference for developmental scientists, creativity researchers, and practitioners.
This is the 151st volume in this Jossey-Bass series New Directions for Child and Adolescent Development. Its mission is to provide scientific and scholarly presentations on cutting edge issues and concepts in this subject area. Each volume focuses on a specific new direction or research topic and is edited by experts from that field.
Table of contents
Preface: Perspectives on Creativity Development 7
Baptiste Barbot
This editorial note provides a brief context for the volume and acknowledge all the contributions.
1. Creativity Doesn't Develop in a Vacuum 9
John Baer
This article discusses how creativity is necessarily tied to content and should therefore be understood as a domain-specific entity as it develops.
2. Pretend Play: Antecedent of Adult Creativity 21
Sandra W. Russ
In this article, pretend play in young children is discussed as an important antecedent of adult creativity given the commonality of cognitive and affective processes involved.
3. "Peaks, Slumps, and Bumps": Individual Differences in the Development of Creativity in Children and Adolescents 33
Baptiste Barbot, Todd I. Lubart, Maud Besançon
This article reviews and interprets creativity slumps in light of the interaction between individual-level resources, task-specific demands, and environmental influences.
4. The Cross-Cultural Invariance of Creative Cognition: A Case Study of Creative Writing in U.S. and Russian College Students 47
Sergey A. Kornilov, Tatiana V. Kornilova, Elena L. Grigorenko
This empirical study offers a psychometric approach to understand how culture may shape the structure and development of creativity.
5. Inhibitory Control as a Core Process of Creative Problem Solving and Idea Generation from Childhood to Adulthood 61
Mathieu Cassotti, Marine Agogué, Anaëlle Camarda, Olivier Houdé, Grégoire Borst
This article reviews research from the field of developmental cognitive neuroscience showing the role of inhibitory control in creative problem solving.
6. Creativity Development in Adolescence: Insight from Behavior, Brain, and Training Studies 73
Sietske W. Kleibeuker, Carsten K. W. De Dreu, Eveline A. Crone
In this article, the development of creativity in adolescence is interpreted in light of adolescent's brain and behavioral control processes development.
7. Creative Aspirations or Pipe Dreams? Toward Understanding Creative Mortification in Children and Adolescents 85
Ronald A. Beghetto, Anna E. Dilley
This article introduces an empirically testable model of creative mortification and its influence on the development of creativity of children and adolescents.
Commentary: Overview of Developmental Perspectives on Creativity and the Realization of Potential 97
Mark A. Runco
This commentary underscores some of the key ideas in the volume and pinpoints issues with the concept of Big C creativity, lack of cultural relativity, and inappropriate testing of divergent thinking.
Commentary: The Development of Creativity—Ability, Motivation, and Potential 111
Paul J. Silvia, Alexander P. Christensen, Katherine N. Cotter
This commentary challenges the concept of creative potential (vs. creativity) outlined in the volume and organizes the contributions in a proposed ability × motivation framework of creativity development.
INDEX 121