Persuasive Messages: The Process of Influence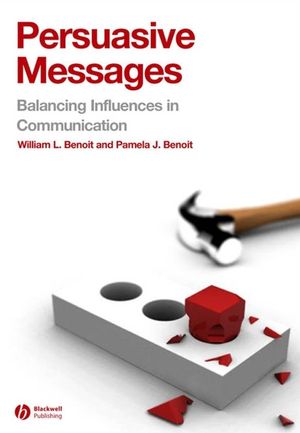 Persuasive Messages: The Process of Influence
ISBN: 978-1-405-15820-6
Jan 2008, Wiley-Blackwell
288 pages
Description
Designed to help students become more successful persuaders, Persuasive Messages offers practical advice on refining purpose, understanding audience, and designing a persuasive message. This textbook combines theory and practice, adopting a cognitive approach to understanding the persuasion process.

A guide to successful persuasion, using student-friendly examples to provide a much-needed balance between theory and application
Offers a new approach using the Cognitive Response Model, which places a special emphasis on audiences, and how they react to, or process, persuasive messages
Covers a broad range of issues including: the relationship between attitudes and behaviour; the nature of ethics in persuasion; dealing with hostile and multiple audiences; and theories of persuasion, including consistency, social judgment, and reasoned action
Teaches readers to be critical consumers of persuasive messages by discussing persuasion in advertising and in politics
Lecturer resources available at www.blackwellpublishing.com/benoit
List of Figures.
List of Boxes.
List of Tables.
Preface.
Part I: Attitudes and Persuasion:.
1. The Importance of Persuasion.
2. The Cognitive Approach to Persuasion.
3. The Source of Persuasive Messages: Credibility.
4. Ethical Concerns.
Part II: Preparing Persuasive Communication:.
5. Purpose and Audience.
6. Organization: Structuring the Message.
7. Substance: Support for Your Ideas.
8. Symbols and Style.
9. Hostile, Apathetic, Motivated, and Multiple Audiences.
Part III: Theories of Persuasion:.
10. Consistency Theories of Attitude Change.
11. Social Judgment/Involvement Theory.
12. Theory of Reasoned Action.
Part IV: Critical Consumers of Persuasive Messages:.
13. Persuasion in Advertising.
14. Persuasion in Political Campaigns.
References.
Index
"The theoretical part of the book presents the key concepts to understanding the processes of social influence and persuasion." (
PsycCritiques
, June 2009)
"The blending of classical rhetoric and contemporary persuasion theory and meta-analysis results as applied to everyday practice represents an exciting and remarkable achievement. Understandable and comprehensive, the Benoits begin the next generation of textbooks."
Mike Allen, UW-Milwaukee"This clearly written book [does] a particularly good job of combining theory and application. References [are] comprehensive, … and the material well presented and accessible. Recommended." (Choice)



A guide to successful persuasion, using student-friendly examples to provide a much-needed balance between theory and application

Offers practical advice on refining purpose, understanding audience, and designing a persuasive message - core topics across a range of disciplines

Offers a new approach using the Cognitive Response Model, which places a special emphasis on audiences, and how they react to, or process, persuasive messages

Covers a broad range of issues including: the relationship between attitudes and behaviour; the nature of ethics in persuasion; dealing with hostile and multiple audiences; and theories of persuasion, including consistency, social judgment, and reasoned action

Teaches readers to be critical consumers of persuasive messages by discussing persuasion in advertising and in politics

Lecturer resources available at www.blackwellpublishing.com/benoit