Pesticide Application Methods, 3rd Edition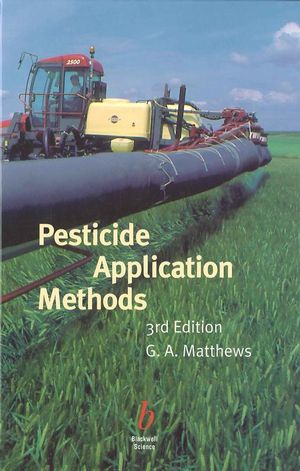 Pesticide Application Methods, 3rd Edition
ISBN: 978-0-470-75986-8
Apr 2008, Wiley-Blackwell
448 pages
Description
Pesticide Application Methods is the standard work for all those involved in crop protection. This fully revised edition provides up-to-date information on the different types of application techniques and how they should be used to ensure efficient and effective pest control.

Detailed information is provided on the role of chemical control in crop protection: targets, formulations and droplets, spray quality and the choice of nozzles are discussed, as are improvements in the design of new equipment, safety precautions and maintenance issues. Two new chapters highlight the application of biological pesticides and equipment used in the evaluation of pesticides.

This important new edition is a commercially important reference tool and will be of great use and interest to all those working in crop protection, including agricultural entomologists and plant pathologists, pesticide scientists, advisors and consultants, large-scale growers, agricultural and horticultural scientists, agrochemical industry personnel including those involved in equipment supply and product formulation. Libraries in government and commercial research establishments, universities and agricultural colleges and anywhere the subject is taught or studied should have multiple copies of this definitive book on their shelves.
Preface to Third Edition.
Acknowledgements.
Conversion Tables.
Pesticide Calculations.
Units, Abbreviations and Symbols.
1. Chemical Control in integrated Pest Management.
2. Targets for Pesticide Deposition.
3. Formulation of Pesticides.
4. Spray Droplets.
5. Hydraulic Nozzles.
6. Manually-Operated Hydraulic Sprayers.
7. Power-Operated Hydraulic Sprayers.
8. Controlled Droplet Application.
9. Electrostatically Charged Sprays.
10. Air Assisted Sprayers.
11. Space Treatment by Fogging.
12. Seed Treatment, Dust and Granule Application.
13. Aerial Application.
14. Injection, Fumigation and Other Techniques.
15. Maintenance of Equipment.
16. Safety Precautions.
17. Application of Biopesticides.
18. Equipment for Laboratory and Field Trials.
19. Selection of Application Equipment for Chemical and Biological Pesticides.
References.
Appendix I. International Standards Relating to Pesticide Application.
Index.
Aslib Book Guide, Nov 2001:
"Of major value to those involved in crop protection in all parts of the world, as an overview and to assist in training in the safe and efficient use of agrochemicals."
* author is well-known internationally for his work in this area
* fully updated and revised edition of well-respected and widely used book
* essential reference work for all those involved in crop protection