Peter Drucker's The Five Most Important Question Self Assessment Tool: Facilitator's Guide, 3rd Edition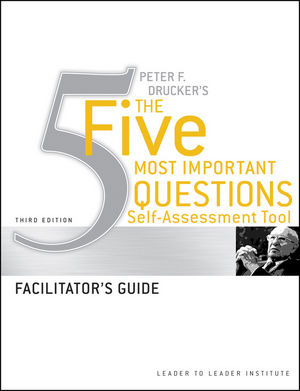 Peter Drucker's The Five Most Important Question Self Assessment Tool: Facilitator's Guide, 3rd Edition
ISBN: 978-0-470-53123-5 November 2010 Jossey-Bass 288 Pages
Description
The Leader to Leader Institute's best-selling The Five Most Important Questions Self-Assessment Tool has helped facilitators, leaders, and consultants guide thousands in unleashing their organizations' full potential in serving their mission and clients. The third edition of this critical resource builds on the original and offers facilitators working with nonprofits and social sector organizations, as well as business and government, a clear and accessible model for helping participants achieve results that align mission, goals, and plans.
At the heart of this tool are Peter F. Drucker's enduring The Five Most Important Questions that facilitators use to lead participants in addressing the critical things that make their organizations viable and valuable entities. When answered thoughtfully and addressed with purpose, these questions take one down a path of organizational transformation that leads to impact and success.
The Facilitator's Guide includes:
Steps for designing and conducting an organizational self-assessment, including how to gain commitment and form a team, set goals, gather and analyze data, prepare for and engage in facilitated dialogue, and how to create action by appraising and implementing strategic and operational plans.

Workshop preparation including how to deliver two-day, full-day, and half-day workshops, and resources to help you design and prepare a workshop.

An introductory workshop script with step-by-step guidance preparing you to deliver the information participants need.

A Microsoft PowerPointTM presentation for running a workshop.

A bound-in copy of the Participant Workbook.
Praise for the Facilitator's Guide Self-Assessment Tool
"Time and again Drucker's The Five Most Important Questions? have proven to be the most effective way for nonprofit organizations to conduct self-assessment and develop plans that will help them achieve real and lasting results." —Cathey Brown, founder and CEO, Rainbow Days, Inc., and 2001 Frances Hesselbein Community Innovation Fellow
"The Five Most Important Questions Self-Assessment Tool? is a gift to the social leadership sector from the late management guru, Peter Drucker, and the Leader to Leader Institute. It makes incredible sense, it is easy to use, and lays the foundation for strategic planning." —Irv Katz, president and CEO, National Human Services Assembly
"A must-read for social entrepreneurs who are seeking to dramatically grow their organization's impact without losing sight of the heart of their mission."—Iris Y. Chen, president and CEO, "I Ha?ve A Dream" Foundation
"High-performing organizations and individuals know that self-assessment through Drucker's The Five Most Important Questions is the starting point for defining today and making tomorrow." —Lee H. Igel, assistant professor, New York University, and president, Peter F. Drucker Society of New York City
"This nuts-and-bolts guide has become my compass for urging leaders and managers to ask the right questions, to look beyond what they thought they knew, and to focus on being relevant tomorrow rather than resting on yesterday's achievements." —Lieutenant Commander Carla J. Grantham [U.S. Coast Guard, retired], Congressional Liaison for Diversity Recruitment and Talent Management, U.S. Coast Guard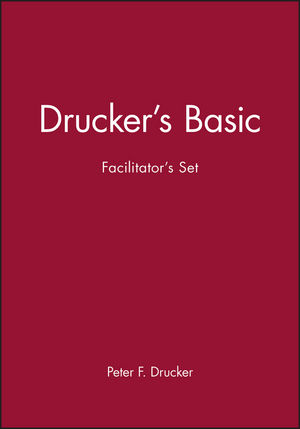 Purchased Together:$306.00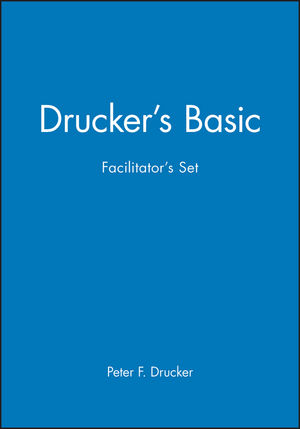 Purchased Together:$189.00