Pfeiffer's Classic Inventories, Questionnaires, and Surveys for Training and Development: The Most Enduring, Effective, and Valuable Assessments for Developing Managers and Leaders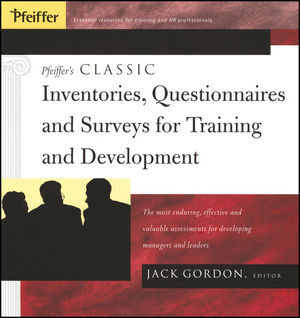 Pfeiffer's Classic Inventories, Questionnaires, and Surveys for Training and Development: The Most Enduring, Effective, and Valuable Assessments for Developing Managers and Leaders
ISBN: 978-1-118-01106-5
Aug 2004, Pfeiffer
576 pages
Description
Pfeiffer's Classic Inventories, Questionnaires, and Surveys for Training and Development gathers the very best leadership and management-related assessments, instruments, and surveys from the acclaimed Pfeiffer Annuals. Written for consultants, training directors, and human resource professionals charged with leadership and management development—each tool presented in the collection includes the background needed for understanding, presenting, and using that particular tool.  This important resource also includes interpretive information, scales, and scoring sheets as well as reliability and validity data. 
How to Use This Resource
Introduction
Section 1: Beliefs and Values
1. The Supervisory and Leadership Beliefs Questionnaire
T. Venkateswara Rao
2. Organizational Profile: Determining a Match
Scott B. Parry
3. Motivational Analysis of Organizations—Behavior (MAO-B)
Udai Pareek
4. Managerial Work-Values Scale
T. Venkateswara Rao
5. Locus of Control Inventory
Udai Pareek
6. Supervisory Behavior Questionnaire
Henry P. Sims, Jr.
7. Inventory of Barriers to Creative Thought and Innovative Action
Lorna P. Martin
8. The Learning Model Instrument
Kenneth L. Murrell
9. Time-Management Personality Profile
Debbie Seid and Kim Piker
10. The TEM Survey
George J. Petrello
11. Aptitude for Becoming a Mentor Survey
H. B. Karp
12. Manager or Scientist: An Attribute Inventory
Elizabeth N. Treher and Augustus Walker
13. Supervisory Attitudes: The X-Y Scale
Editors
Section 2: Present Performance
14. Leading Workplace Collaboration: A Literature-Based Model and Self-Assessment Inventory
Doug Leigh
15. The Leadership Dimensions Survey
Gerald V. Miller
16. Role Efficacy Scale
Udai Pareek
17. The Communication Climate Inventory
James I. Costigan and Martha A. Schmeidler
18. Cross-Cultural Interactive Preference Profile
Morris Graham and Dwight Miller
19. The High-Performance Factors Inventory: Assessing Work-Group Management and Practices
Robert P. Crosby
20. Organization Behavior Describer Survey (OBDS)
Roger Harrison and Barry Oshry
21. Cornerstones: A Measure of Trust in Work Relationships
Amy M. Birtel, Valerie C. Nellen, and Susan B. Wilkes
22. Supervisor Selection: The Supervisory Assessment Instrument
Philip Benham
23. Simulations: Pre- and Post-Evaluations of Performance
Ira J. Morrow
24. Organizational Role Stress
Udai Pareek
Section 3: Managing the Organization
25. Problem-Analysis Questionnaire
Barry Oshry and Roger Harrison
26. The Organizational Health Survey
Will Phillips
27. The Organizational Climate Questionnaire (OCQ)
Adrian Furnham and Leonard D. Goodstein
28. Strategic Leadership Styles Instrument
Gaylord Reagan
29. Conflict Management Climate Index
Bob Crosby and John J. Scherer
30. Why Don't They Do What I Want? Understanding Employee Motivation
Janet Winchester-Silbaugh
31. Motivational Analysis of Organizations—Climate (MAO-C)
Udai Pareek
32. The Organizational Readiness Inventory (ORI): Diagnosing Your Organization's Ability to Adapt to the Future
James L. Moseley and Douglas J. Swiatkowski
33. The Organizational I-Boundary Inventory: A Model for Decision Making
H. B. Karp
34. Innovation Capability Audit
Dave Francis
35. Organizational Norms Opinionnaire
Mark Alexander
36. Mentoring Skills Assessment
Michael Lee Smith
37. Organizational Type Inventory
Manfred F. R. Kets de Vries, Danny Miller, and Gaylord Reagan
About the Editor
Pfeiffer Publications Guide