Pharmaceutical Ethics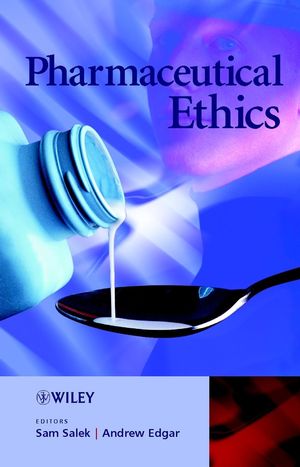 Pharmaceutical Ethics
ISBN: 978-0-470-85582-9 January 2003 210 Pages
Description
Pharmaceutical Ethics is an important text, which aims to provide the ethical guidelines much needed by the pharmaceutical industry. By focusing on many of the central issues such as the ethical aspects of clinical trials, informed consent, physician or patient choice and pharmaceutical advertising, this text will provide very good coverage of an area which perhaps still lacks coherent instruction.
* Covers ethical issues involved in the testing and use of pharmaceuticals on human beings
* Investigates issues such as whether choice of drug should lie with the physician or the patient
* Looks at a wide variety of subjects connected with pharmaceutical ethics.
* Focuses specifically on the issues surrounding the pharmaceutical industry, not medicine in general.
* Fulfils an important need in the Pharmaceutical Industry.
Table of contents
List of Contributors.

Preface.

Foreword.

1. The Basis of Ethics (Jon Merrills).

2. Principles of Ethics Focusing on the Patient (Andrew Edgar).

3. Ethical Rationalism Applied to Pharmaceuticals (R.P. Dessing).

4. The Etihcs of the Drug Discovery and Development Process (Roger G. Bolton).

5. Informed Conset: Reconsideration of its Structure and Role in Medicine (Jan Payne).

6. Clinical Trials of Pharmaceuticals: Ethical Aspects (Olivier Chassany, Martin Duracinsky and Isabelle Mahé).

7. Can We Afford the Medicines We Need: An Ethical Dilemma? (Roger Walker).

8. Physician Choice or Patient Choice: Ethical Dilemmas in Science and Politics (Andrew Edgar).

9. The Economics of Drug-Related Morbidity and Mortality: Ethical Considerations (J. Lyle Bootman and Amy J. Grizzle).

10. Holistic Approach in Choice of Pharmaceutical Agents: Ethical Responsibilities (Sam Salek).

11. Ethical Values in the Treatment of Depression and Anxiety (John Lilja, Sam Larsson, David Hamilton and Mia Bauer).

12. Ethical Promotion and Advertising of Medicines: Where Do We Draw the Line? (Ivor Harrison).

13. Ethical Problems of Drug Categorization for Reimbursement (Chris Good).

Index.
Reviews
"...it will give the uninitiated a feel for the range of ethical isues..." (
Mental Health Care
, February 2003)
"...a good introduction to the ethics surrounding pharmaceuticals..." (Pharmaceutical Physician, March 2003)
"...the core question: should you read this book...definitely yes...the book stimulates our thinking and helps the reader to define and outline the many dilemmas in health care..." (Pharm World Sci, Vol. 25, No. 2, 2003)