Pharmacy Law and Practice, 3rd Edition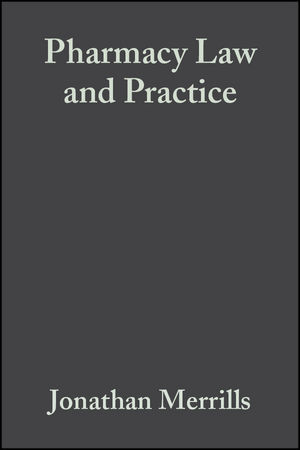 Pharmacy Law and Practice, 3rd Edition
ISBN: 978-0-470-68037-7 April 2008 Wiley-Blackwell 416 Pages
Description
This textbook explains what pharmacy students and practicing pharmacists need to know about pharmacy and the law, including recent changes in the National Health Service. The book provides easy accessibility amd concise, yet comprehensive information. There have been many changes in the NHS and in the law relating to pharmacy since the first edition was written. Therefore, the book has been thoroughly revised, and the text re-organized.
Table of contents
Preface to the Third Edition.
Table of Cases.
Table of Statutes.
Table of Statutory Instruments.
List of Abbreviations.
1. The National Health Service.
2. Administration of the NHS.
3. Applications to Dispense NHS Prescriptions.
4. Rural Dispensing.
5. terms of Service.
6. The Drug Tariff.
7. Prescription Charges.
8. Complaints and Discipline in the NHS.
9. Retail Pharmacy.
10. Manufacture and Licensing of Medical Products.
11. Control of Sales of Medicines.
12. Special Circumstances.
13. Hospitals and the Medicines Act.
14. Traditional and Alternative Medicines.
15. Labeling and Containers.
16. Other Health Professions and Medicines.
17. Poisons and Other Controls.
18. Controlled Drugs.
19. Confidentiality and Records.
20. The European Union.
21. The Pharmacy Profession.
22. Liability in Negligence.
23. Business Premises.
24. Business Associations.
25. The Sale of Goods.
26. Employment Law.
Appendices.
1. Definitions.
2. National Health Service Act 1977.
3. Medicines Act 1968.
4. The Medicines (Products other than Veterinary Drugs) (Prescription Only) Order 1983.
5. NHS (PS) Regulation 1992 Schedule 2.
6. The Medicines for Human Use (Marketing Authorisations Etc.) Regulations 1994.
7. The Code of Ethics of the Royal Pharmaceutical Society of Great Britain.
Index.
Reviews
"A comprehensive guide to the law and practice of pharmacy."Chemist and Druggist
Features
* pharmacy law is a core subject for all pharmacy students
* suitable for professional reference
* the most popular text in schools of pharmacy
* Jonathan Merrills is a legally qualified pharmacist who now runs a legal and pharmaceutical consultancy. He previously headed the division dealing with the practice of pharmacy at the Department of Health. Jonathan Fisher is a barrister who is regularly briefed on pharmacy matters.