Phenomenal Shakespeare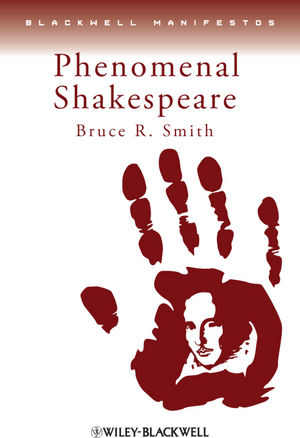 Phenomenal Shakespeare
ISBN: 978-1-444-31795-4 January 2010 Wiley-Blackwell 232 Pages
Description
In Phenomenal Shakespeare, leading Shakespeare scholar Bruce R. Smith presents an original account for the ways in which Shakespeare's poems and plays continue to resonate with audiences, readers and scholars because of their engagement with the whole body, not just the reading mind. 
An original examination of Shakespeare's appeal written by leading Shakespeare scholar Bruce R. Smith
Contains insightful examinations of a single Shakespeare sonnet, Venus and Adonis, and King Lear to model the possibilities of historical phenomenology as a better strategy for critical reading than approaches based on language alone
Pushes beyond traditional treatments of Shakespeare
An ideal handbook of contemporary approaches to Shakespeare and a celebration of Shakespeare's staying power on stage, on film, and on the page
Acknowledgments.
Prologue: The Argument.
1. As It Likes You.
2. How Should One Read a Shakespeare Sonnet?.
3. Carnal Knowledge.
4. Touching Moments.
Epilogue: What Shakespeare Proves.
Works Cited.
Picture Credits.
Index
"I cannot recommend Bruce Smith's book highly enough to any researcher interested in deepening their understanding of historical phenomenology. The first chapter on As You Like It manifests-through an analysis of the modern use of the quotative ""like"" and three contrasting portraits of Bacon, Descartes and Husserl in their private studies of phenomena-the central goals and underpinnings of this theoretical approach." (Routledge ABES, 2011)