Philanthropy in a Flat World: Inspiration Through Globalization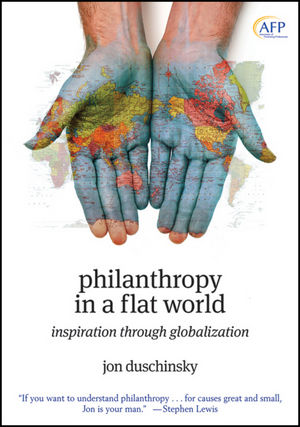 Philanthropy in a Flat World: Inspiration Through Globalization
ISBN: 978-0-470-47801-1
Mar 2009
208 pages
Description
Open, honest, and challenging, this visionary guide looks at the forces at work in creating the global philanthropic world of tomorrow. It is a must-read for every fundraiser and nonprofit manager seeking to compete and succeed in today's "borderless" world. This compelling and practical resource reveals how your nonprofit can become more flexible, adaptable, and international in approach to help it survive the coming challenges.
"Jon is an inspired fundraiser: wise, inventive, energetic, irrepressible. If you want to understand philanthropy, if you want a rare glimpse into the fine art of fundraising, or if you want to be charmed out of your pocketbook for causes great and small, Jon is your man."
—Stephen Lewis, Chair of the Board
Stephen Lewis Foundation
You have a choice. Put your head in the sand and pretend the world is still round and suffer the consequences, or take advantage of this incredible opportunity. Philanthropy in a Flat World: Inspiration Through Globalization is your insider guide to meeting and exceeding your nonprofit's goals for decades to come.
Preface.
Introduction: The First Flat World Fundraiser.
Part One : Flat And Beautiful.
Chapter One: The Flat World.
From Columbus to Skinny Lattés.
Flat, wild and wacky.
From Geography to Biography.
ZOOM.
What makes a pancake?
The Global Passport for Change.
The three tippers.
The Exponential World.
Chapter Two: The realities of the flat world.
Choice.
Individualism.
Disappearing boundaries.
Chapter Three: The Global Philanthropy Crisis.
Middle Class Heroes.
Development and Flatness.
Part Two: Surviving And Thriving.
Chapter Four: From 50s to Fractions.
Karaoke Capitalism.
Chapter Five: The 4 step plan to Flat Philanthropic Success.
Step 1 : Rationalise.
Step 2. Become sexy.
Use your body.
Hypersensitivity – or Brain the Branding Snail.
Chapter Six : Balancing out the future fundraising mix.
Giving according to whose needs?
High-Impact Philanthropy.
Capital for Good.
Conclusion.
Acknowledgments.
AFP Code of Ethics for Professional Philanthropic Fundraisers.
Donor Bill of Rights.
Index.
"Duschinsky is a gifted storyteller, and his ability to weave disparate threads of thought from many disclipines into an integrated action plan for nonprofits is truly impressive. Whether engaged directly in philanthropic enterprises or not, readers will find this book fascinating-a thought provoking look at our emerging global village." (
Estate Planning
, August 2009)
"…consultant Duschinsky explains what today's "flat' world, characterized by lowered trade and political barriers and telecommunications advances, means for nonprofits and their donors. He gives advice to nonprofit managers and fundraisers on attracting donors, competing against other flat world fundraisers, and reacting to and growing with the opportunities presented by the flat world." (Book News, May 2009)