Philosophers on Race: Critical Essays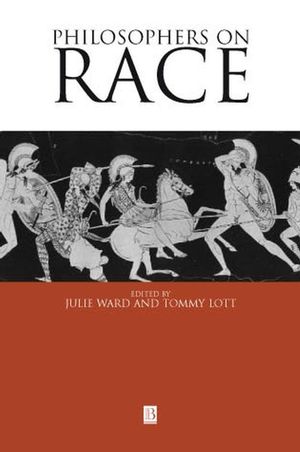 Philosophers on Race: Critical Essays
ISBN: 978-0-470-75204-3 April 2008 Wiley-Blackwell 336 Pages
Description
Philosophers on Race adds a new dimension to current research on race theory by examining the historical roots of the concept in the works of major Western philosophers.
Contributors.
Acknowledgments.
Introduction.
1. Distinction Without a Difference? Race and Genos in Plato (Rachana Kamtekar).
2. Ethnos in the Politics: Aristole and Race (Julie K. Ward).
3. Medieval Muslim Philosophers on Race (Paul-A. Hardy).
4. Patriarchy and Slavery in Hobbes's Political Philosophy (Tommy L. Lott).
5. "An Inconsistency not to be Excused": On Locke and Racism (William Uzgalis).
6. Locke and the Dispossession of the American Indian (Kathy Squadrito).
7. Between Primates and Primitives: Natural Man as the Missing Link in Rousseau's Second Discourse (Francis Moran III).
8. Kant as an Unfamiliar Source of Racism (Robert Bernasconi).
9. "The Great Play and Fight of Forces": Nietzsche on Race (Daniel W. Conway).
10. Liberalism's Limits: Carlyle and Mill on "The Negro Question" (David Theo Goldberg).
11. Heidegger and the Jewish Question: Metaphysical Racism in Silence and Word (Berel Lang).
12. Sartre on American Racism (Julien Murphy).
13. Sartrean Bad Faith and Antiblack Racism (Lewis R. Gordon).
14. Beavoir and the Problem of Racism (Margaret A. Simons).
15. Dewey's Philosophical Approach to Racial Prejudice (Gregory Fernando Pappas).
Index.
"Critical race theory in philosophy has until now lagged behind the comparable feminist revisionist project on gender. This landmark collection of essays, ranging in scope from Plato to Dewey, represents a dramatic step forward in theoretically engaging the role of race in the work of central figures of the canon. After reading this text, no one will be able to claim in good faith that race is irrelevant to Western philosophy."
Charles W. Mills, University of Illinois at Chicago
"This collection makes a splendid contribution to our understanding of the history of thinking on race and racism in the history of philosophy. It goes far to remedy what now appear as the thundering silences about racial and anti-racist thinking characteristic of standard histories of philosophy, and to counter prevalent simplistic reactions and generalizations on all sides of the issues." Sandra Harding, University of California, Los Angeles

"Skeptical scrutiny of the many ways in which Western philosophy has been enmeshed with the practices of slavery, dispossession of indigenous peoples, and anti-Semitism is, with the publication of Philosophers on Race, reaching its maturity. It is bringing into focus the inadequacy of our philosophical tradition's efforts to achieve self-consciousness about its own racism and about the deep meaning of being anti-racist. This book sets the terms for serious discussion of racism in the future." Anatole Anton, San Francisco State University

"In this distinguished collection, noted authorities explain how the idea of race informed the philosophies of Aristotle, Hobbes, Locke, Rousseau, Kant, Mill, Sartre, and others. It deepens our understanding not only of race, but also of Western philosophy." Bernard Boxill, University of North Carolina at Chapel Hill

"This book would work well as a supplementary text in various philosophical courses. Indeed, it could be the major text in a course that examines issues of race and racism in Western philosophy... This is a provocative and very well written book." Ethics, April 2003

"This book offers a highly sophisticated, well-thought-out, and balanced treatment of a very delicate but much downplayed subject, namely, the role and significance of the views of celebrated Western philosophical forebears in shaping the discourse on race, racism, and oppression. As such, it provides a variety of very powerful critical lenses through which to re-examine the epistemological, metaphysical, and ethical claims of those philosophical icons whose views on race are interrogated." Clarence Shole Johnson, Middle Tennessee State University


Examines the historical roots of race in the works of major Western philosophers.


Contains eleven new essays, some of which cover ancient Greek and Islamic medieval thought.


Demonstrates new ways to analyze historical thinkers.