Philosophical Foundations of Health Education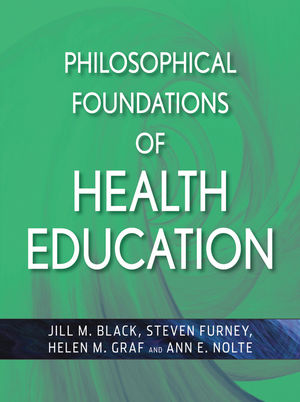 Philosophical Foundations of Health Education
ISBN: 978-0-470-52865-5 November 2009 Jossey-Bass 448 Pages
Description
This book covers the philosophical and ethical foundations of the professional practice of health education in school, community, work site and hospital settings, as well as in health promotion consultant activities. Designed to be flexible, readers are prompted to develop their own philosophical and ethical approach(s) to the field after becoming familiar with the literature related to the discipline. It provides a state-of-the-art, conceptual framework and is targeted for health education majors who seek careers in health education and to provide other health science and health-related majors, who need to gain clear, succinct philosophical principles.
Figures, Tables, and Exhibits xi
Foreword xv
Introduction xvii
The Editors xxi
PART 1 PHILOSOPHICAL PERSPECTIVES IN HEALTH EDUCATION 1
1 THIS I BELIEVE: A PHILOSOPHY OF HEALTH EDUCATION 3
Loren B. Bensley Jr.
2 PHILOSOPHICAL BASES FOR HEALTH EDUCATION 7
J. Keogh Rash
3 THREE ESSENTIAL QUESTIONS IN DEFINING A PERSONAL PHILOSOPHY 11
R. Morgan Pigg Jr.
4 HEALTH EDUCATION AS A BASIC 17
Carl E. Willgoose
5 SOME GUIDING PRINCIPLES ON HEALTH AND HEALTH EDUCATION: A PHILOSOPHICAL STATEMENT 29
Charles R. Carroll
6 THE HOLISTIC PHILOSOPHY AND PERSPECTIVE OF SELECTED HEALTH EDUCATORS 35
Stephen B. Thomas
PART 2 DEVELOPING A PHILOSOPHY OF HEALTH EDUCATION 45
7 CONNECTING A PERSONAL PHILOSOPHY OF HEALTH TO THE PRACTICE OF HEALTH EDUCATION 49
Becky J. Smith
8 HEALTH EDUCATORS AND THE FUTURE: LEAD, FOLLOW OR GET OUT OF THE WAY 55
Noreen M. Clark
9 HEALTH EDUCATION AND HEALTH PROMOTION: A LOOK AT THE JUNGLE OF SUPPORTIVE FIELDS, PHILOSOPHIES, AND THEORETICAL FOUNDATIONS 67
Thomas C. Timmreck, Galen E. Cole, Gordon James, Diane D. Butterworth
10 PHILOSOPHICAL TRENDS IN HEALTH EDUCATION: IMPLICATIONS FOR THE 21ST CENTURY 79
Helen M. Welle, Robert D. Russell, Mark J. Kittleson
PART 3 COGNITIVE APPROACHES IN HEALTH EDUCATION 91
11 TEACHING FOR UNDERSTANDING IN HEALTH EDUCATION: THE ROLE OF CRITICAL AND CREATIVE THINKING SKILLS WITHIN CONSTRUCTIVISM THEORY 95
Valerie A. Ubbes, Jill M. Black, Judith A. Ausherman
12 THE PARADIGM SHIFT TOWARD TEACHING FOR THINKING: PERSPECTIVES, BARRIERS, SOLUTIONS, AND ACCOUNTABILITY 109
Bette B. Keyser, James T. Broadbear
13 HISTORICAL STEPS IN THE DEVELOPMENT OF THE MODERN SCHOOL HEALTH PROGRAM 119
Kenneth E. Veselak
14 PHILOSOPHY AND PRINCIPLES OF THE SCHOOL HEALTH PROGRAM 127
Delbert Oberteuffer
PART 4 CHANGING BEHAVIOR IN HEALTH EDUCATION 135
15 BEHAVIORAL HEALTH AND HEALTH EDUCATION: AN EMERGING OPPORTUNITY 139
Carl I. Fertman
16 HEALTHY BEHAVIOR: THE IMPLICATIONS OF A HOLISTIC PARADIGM OF THINKING THROUGH BODYMIND RESEARCH 145
Don Read, Walt Stoll
17 PROBLEM-BASED LEARNING: CATALYST FOR BEHAVIORAL CHANGE 169
J. Frederick Garman, Carol J. Teske, Duane A. Crider
18 HEALTH PROMOTION AND EMPOWERMENT: REFLECTIONS ON PROFESSIONAL PRACTICE 179
Ronald Labonte
PART 5 FREEING / FUNCTIONING IN HEALTH EDUCATION 197
19 HEALTH EDUCATION AS FREEING 201
Jerrold S. Greenberg
20 DEMOCRACY: THE FIRST PRINCIPLE OF HEALTH PROMOTING SCHOOLS 207
Andy Anderson, Barbara Ronson
21 HUMAN ECOLOGY AND HEALTH EDUCATION 227
Howard S. Hoyman
22 SPIRITUAL WELLNESS, HOLISTIC HEALTH, AND THE PRACTICE OF HEALTH EDUCATION 243
Steven Hawks
PART 6 SOCIAL CHANGE IN HEALTH EDUCATION 253
23 NEW HEALTH PROMOTION MOVEMENT: A CRITICAL EXAMINATION 257
Ann Robertson, Meredith Minkler
24 POTENTIAL UNTAPPED: HEALTH EDUCATION AND HEALTH PROMOTION AS A MEANS TO PEACE 275
Daniel Leviton
25 PUTTING POLITICS BACK IN PUBLIC HEALTH EDUCATION 299
Martha L. Coulter, Terrance Allbrecht, Elizabeth Gulitz, Mary Figg, Charles Mahan
26 HEALTH CARE REFORM: INSIGHTS FOR HEALTH EDUCATORS 305
Thomas O'Rourke
27 THE ROLE OF HEALTH EDUCATION ASSOCIATIONS IN ADVOCACY 311
M. Elaine Auld, Eleanor Dixon-Terry
28 THE ROLE OF HEALTH EDUCATION ADVOCACY IN REMOVING DISPARITIES IN HEALTH CARE 319
John P. Allegrante, Donald E. Morisky, Behjat A. Sharif
29 LESSONS FROM DEVELOPING COUNTRIES: HEALTH EDUCATION IN THE GLOBAL VILLAGE 335
Helda Pinzon-Perez
APPENDIX A PHILOSOPHY OF HEALTH EDUCATION GRID 341
APPENDIX B PHILOSOPHY OF HEALTH EDUCATION: A POSITION STATEMENT OF THE AMERICAN ASSOCIATION OF HEALTH EDUCATION (AAHE) 345
APPENDIX C HEALTH LITERACY: A POSITION STATEMENT OF THE AMERICAN ASSOCIATION OF HEALTH EDUCATION (AAHE) 349
APPENDIX D CODE OF ETHICS FOR THE HEALTH EDUCATION PROFESSION 351
APPENDIX E CHES QUESTIONS 357
References 413
Index 417