Philosophical Passages: Wittgenstein, Emerson, Austin, Derrida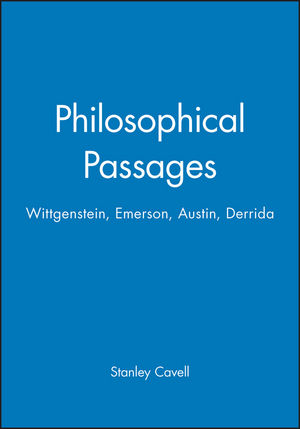 Philosophical Passages: Wittgenstein, Emerson, Austin, Derrida
ISBN: 978-0-631-19271-8
Jan 1995, Wiley-Blackwell
212 pages
Description
In this most recent collection of his writing, Cavell provides extraordinary careful and sustained readings of Emerson's "Fate", Derrida's response to J. L. Austin in "Signature Event Context", and Wittgenstein's Philosophical Investigations .
Preface.
Acknowledgements.
Introduction: Michael Payne and Richard Fleming.
1. Emerson's Constitutional Amending: Reading Emerson's "Fate".
2. What Did Derrida Want of Austin?.
3. Seminar on "What Did Derrida Want of Austin?".
4. The Self of Philosophy: An Interview with Stanley Cavell.
5. Continuing Cavell: Side Roads of "The Claim of Reason": Richard Fleming.
6. Notes and Afterthoughts on the Opening of Wittgenstein's Investigations.
Stanley Cavell: A Working Bibliography, 1951-1994: Compiled by Peter S. Fosl and Michael Payne.
Index.
Addresses European and Anglo-American philosophical traditions - which is a growth area
Deals with Derrida and a long standing controversy regarding his work
Cavell is a cult figure in the US and has his own following: eg. Stephen Mulhall's recent OUP book about him.