Philosophy, Methodology and Educational Research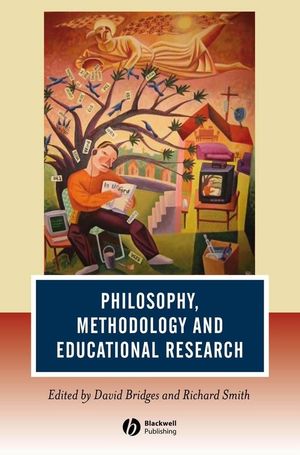 Philosophy, Methodology and Educational Research
ISBN: 978-1-405-14513-8
Oct 2007, Wiley-Blackwell
372 pages
Description
This book evaluates the increasingly wide variety of intellectual resources for research methods and methodologies and investigates what constitutes good educational research.



Written by a distinguished international group of philosophers of education

Questions what sorts of research can usefully inform policy and practice, and what inferences can be drawn from different kinds of research

Demonstrates the critical engagement of philosophers of education with the wider educational research community and illustrates the benefits that can accrue from such engagement
1. Introduction: David Bridges and Richard Smith.
2. The Myth of 'Scientific Method' in Contemporary Educational Research: Darrell Rowbottom and Sarah Aiston.
3. As if by Machinery: the Levelling of Educational Research: Richard Smith.
4. 'A demented form of the familiar': Postmodernism and Educational Research: Maggie MacLure.
5. The Disciplines and Discipline of Educational Research: David Bridges.
6. Consistency, Understanding and Truth in Educational Research: Andrew Davis.
7. No Harm Done: The Implications for Educational Research of the Rejection of Truth: Stefan Ramaekers.
8. The Quantitative-Qualitative Distinction and the Null Hypothesis Significance Testing Procedure: Nimal Ratnesar and Jim Mackenzie.
9. A View from Somewhere: Explaining the Paradigms of Educational Research: Hanan Alexander.
10. Philosophy, Methodology and Action Research: Wilfred Carr.
11. Educational Research as a Form of Democratic Rationality: John Elliott.
12. Philosophical Research and Educational Action Research: Marianna Papastephanou.
13. Why Generalisability is not Generalisable: Lynn Fendler.
14. On Generalising from Single Case Studies: Epistemological Reflections: Colin W. Evers and Echo H. Wu.
15. Epistemological Issues in Phenomenological Research: How Authoritative are People's Accounts of their own Perceptions?: Bas Levering.
16. Reasons and Causes in Educational Research: Overcoming Dichotomies and Other Conceptual Confusions: Paul Smeyers.
17. Philosophy's Contribution to Social Science Research on Education: Martin Hammersley.
18. US Graduate Study in Education Research: From Methodology to Potential Totalization: Lynda Stone.
19. Shovelling Smoke? The Experience of Being a Philosopher on a Research Training Programme: Judith Suissa.
20. Induction into Educational Research Networks: The Striated and the Smooth: Naomi Hodgson and Paul Standish.
21. The Contested Nature of Empirical Educational Research (and Why Philosophy of Education Offers Little Help): D.C. Phillips.
22. On the Limits of Empirical Educational Research, Beyond the Fantasy: A Rejoinder to D.C. Phillips: Paul Smeyers.


Written by a distinguished international group of philosophers of education

Questions what sorts of research can usefully inform policy and practice, and what inferences can be drawn from different kinds of research

Demonstrates the critical engagement of philosophers of education with the wider educational research community and illustrates the benefits that can accrue from such engagement