Philosophy and the Empirical, Volume XXXI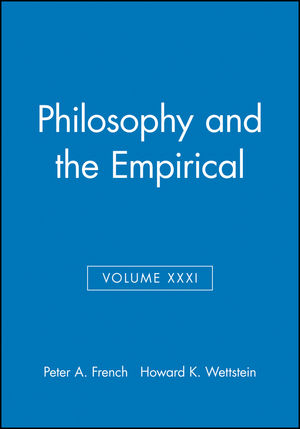 Philosophy and the Empirical, Volume XXXI
ISBN: 978-1-405-18020-7
Nov 2007, Wiley-Blackwell
300 pages
Description
This collection of essays focuses on a current issue of central important in contemporary philosophy, the relationship between philosophy and empirical studies.
Explores in detail a range of examples which demonstrate how the older paradigm – philosophy as conceptual analysis – is giving way to a more varied set of models of philosophical work
Each of the featured papers is a previously unpublished contribution by a major scholar
The Use of Empirical Evidence to Assess and Critique Judicial Decisions.
From My Lai to Abu Ghraib:The Moral Psychology of Atrocity.
Render Unto Philosophy that which is Philosophy's.
Philosophical Thought Experiments, Intuitions and Cognitive Equilibrium.
Reason Explanation in Folk Psychology.
The Folk Probably Don't Think What You Think They Think:Experiments on Causation by Absence.
The Epistemology of Thought Experiments: First vs. Third Person ApproachArguments from Reference and the Worry About Dependence.
INTENTIONAL ACTION, FOLK JUDGMENTS, AND STORIES:SORTING THINGS OUT.
Folk Intuitions, Slippery Slopes, and Necessary Fictions: An Essay on Saul Smilansky's Free Will Illusionism.
Free Will, Moral Responsibility, and Mechanism: Experiments on Folk Intuitions.
Do We Have A Coherent Set of Intuitions About Moral Responsibility?.
The Rise of Compatibilism:.
A Case Study in the Quantitative History of Philosophy.
Can Moral Obligations Be Empirically Discovered?.
Pragmatic Abilities in Autism Spectrum Disorder:A Case Study in Philosophy and the Empirical.
How To Challenge Intuitions Empirically Without Risking Skepticism.
The Cosmic Ensemble: Some reflections on the nature-mathematics symbiosis


A collection of essays which focuses on an issue of central importance in contemporary philosophy: the
relationship between philosophy and empirical studies

Explores in detail a range of examples which demonstrate how the older paradigm – philosophy as conceptual analysis – is giving way to a more varied set of models of philosophical work

Each of the featured papers is a previously unpublished contribution by a major scholar