Philosophy in Practice: An Introduction to the Main Questions, 2nd Edition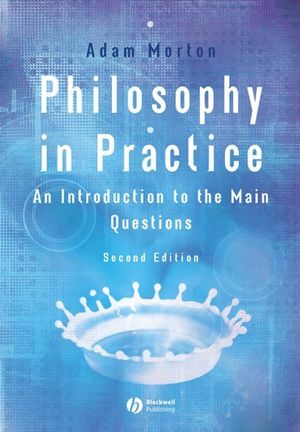 Philosophy in Practice: An Introduction to the Main Questions, 2nd Edition
ISBN: 978-1-405-11617-6 December 2003 Wiley-Blackwell 464 Pages
Description
Philosophy in Practice
is a completely new kind of introductory philosophy textbook, focusing on philosophy as an activity, rather than as a doctrine.


Thoroughly revised edition of a popular introductory philosophy textbook.

Contains new discussions of philosophy of religion, freedom, The Matrix, and the epistemology of the internet.

Offers a wealth of pedagogical features to guide students through the text, including discussion plans at the beginning of each section, questions, chapter summaries, annotated guides to further reading, and a glossary.

Classic passages from the history of philosophy are used throughout, and each part ends with a one-page historical summary.

Includes an on-line teacher's guide with teaching suggestions, tests, and essay topics at: www.blackwellpublishing.com/pip
Table of contents
Thanks.
Note to Teachers.
The Contract.
Part I: The Lure of Certainty:.
1. Certainty and Doubt.
2. Sources of Conviction.
3. Rationalism.
4. Rationalism versus Relativism in Morals.
5. Induction and Deduction.
6. The Retreat from Certainty.
Postcard History of Philosophy I.
Part II: Life in an Uncertain World: .
7. Utilitarianism.
8. Kantian Ethics.
9. Empiricism.
10. Beyond Empiricism.
11. Objectivity.
Postcard History of Philosophy II.
Part III: Reality: .
12. Materialism and Dualism.
13. Morality for Naturalists.
14. Deep Illusions.
15. Realism.
Postcard History of Philosophy III.
Definitions.
Index.
Reviews
"This second edition of Morton's
Philosophy in Practice
is the best introductory textbook on the market. Morton's approach to teaching takes into account what we have learned about learning and critical thinking over the past twenty years, and the text emphasizes
doing
philosophy as an integral part of learning it. If you want an introductory textbook which makes it possible to teach philosophy as a verb to undergraduates, one that makes possible real conversation with beginners, this is it."
Michael Silberstein, Elizabethtown College
<!--end-->
"I find it hard to imagine that one could get very far into this engaging book without wanting to think through, for oneself, the core issues of philosophy. Fortunately, Adam Morton has also provided the basic resources one would need to deal responsibly with those great issues." Gareth B. Matthews, University of Massachusetts–Amherst, author of Socratic Perplexity and the Nature of Philosophy
Features


Thoroughly revised edition of a popular introductory philosophy textbook.


Contains new discussions of philosophy of religion, freedom, The Matrix, and the epistemology of the internet.


Offers a wealth of pedagogical features to guide students through the text, including discussion plans at the beginning of each section, questions, chapter summaries, annotated guides to further reading, and a glossary.


Classic passages from the history of philosophy are used throughout, and each part ends with a one-page historical summary.


Includes an on-line teacher's guide with teaching suggestions, tests, and essay topics at: www.blackwellpublishing.com/pip