Philosophy in The Twilight Zone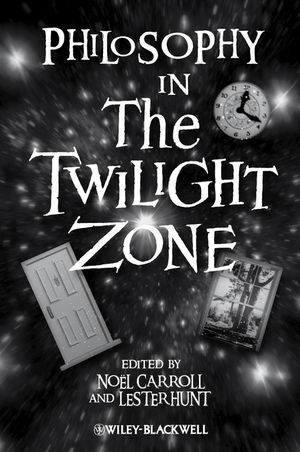 Philosophy in The Twilight Zone
ISBN: 978-1-405-14905-1 April 2009 Wiley-Blackwell 208 Pages
Description
Utilizing a series of essays examining the broad philosophical concepts embedded in Rod Serling's series, The Twilight Zone, Philosophy in The Twilight Zone provides a platform for further philosophical discussion.


Features essays by eminent contemporary philosophers concerning the over-arching themes in The Twilight Zone, as well as in-depth discussions of particular episodes
Fuses popular cult entertainment with classical philosophical perspectives
Acts as a guide to unearthing larger questions - from human nature to the nature of reality and beyond - posed in the series
Includes substantial critical and biographical information on series creator Rob Serling
Notes on Contributors.
Introduction (Lester H. Hunt).
1. "And Now, Rod Serling, Creator of The Twilight Zone ": The Author as Auteur (Lester H. Hunt).
2. Tales of Dread in The Twilight Zone: A Contribution to Narratology (Noël Carroll).
3. Frame Shifters: Surprise Endings and Spectator Imagination in The Twilight Zone (Carl Plantinga).
4. The Treachery of the Commonplace (Mary Sirridge).
5. Where is the Twilight Zone? (Richard Hanley).
6. Existentialism and Searching for an Exit (Susan L. Feagin).
7. Through the Twilight Zone of Nonbeing: Two Exemplars of Race in Serling's Classic Series (Lewis R. Gordon).
8. Blending Fiction and Reality: "The Odyssey of Flight 33" (Thomas E. Wartenberg).
9. Epistemology at 20,000 Feet (Sheila Lintott).
10. Rationality and Choice in "Nick of Time" (Aeon J. Skoble).
11. "The Little People": Power and the Worshipable (Aaron Smuts).
12. Nothing in the Dark: Deprivation, Death, and the Good Life (James S. Taylor).
Index.
"The anthology's substantial entries offer the reader rigorous, lucid, and stylistically polished arguments about one of the best dramas ever to grace American television screens. This collection is, to invoke Serling's memorable prose style, worthy of one's perusal, consideration, and review." (Journal of the Fantastic in the Arts, 21 March 2011)
"It acts as a guide to unearthing larger questions—from human nature to the nature of reality and beyond—posed in the series." (Gnist.no, June 2009)
Features essays by eminent contemporary philosophers concerning the over-arching themes in The Twilight Zone, as well as in-depth discussions of particular episodes
Fuses popular cult entertainment with classical philosophical perspectives
Acts as a guide to unearthing larger questions - from human nature to the nature of reality and beyond - posed in the series
Includes substantial critical and biographical information on series creator Rob Serling