Philosophy of Film and Motion Pictures: An Anthology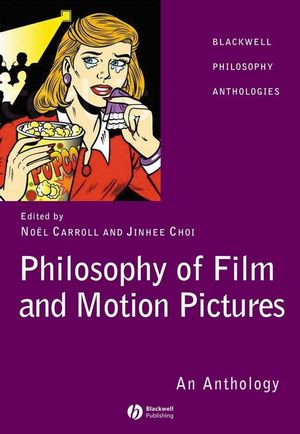 Philosophy of Film and Motion Pictures: An Anthology
ISBN: 978-1-405-15201-3 February 2009 Wiley-Blackwell 432 Pages
Description
Designed for classroom use, this authoritative anthology presents key selections from the best contemporary work in philosophy of film.


The featured essays have been specially chosen for their clarity, philosophical depth, and consonance with the current move towards cognitive film theory
Eight sections with introductions cover topics such as the nature of film, film as art, documentary cinema, narration and emotion in film, film criticism, and film's relation to knowledge and morality
Issues addressed include the objectivity of documentary films, fear of movie monsters, and moral questions surrounding the viewing of pornography
Replete with examples and discussion of moving pictures throughout
Acknowledgments.
General IntroductionPart I: Film as Art.
Introduction.
1 Roger Scruton.
Photography and Representation.
2 Dominic McIver Lopes.
The Aesthetics of Photographic Transparency.
3 Terrence Rafferty.
Everybody Gets a Cut: DVDs Give Viewers Dozens of Choices -- and That's the Problem.
Part II: What Is Film?.
Introduction.
4 Stanley Cavell.
From The World Viewed.
5 Susanne K. Langer.
A Note on the Film.
6 F. E. Sparshott.
Vision and Dream in the Cinema.
7 Gregory Currie.
The Long Goodbye: The ImaginaryLanguage of Film.
8 Arthur C. Danto.
Moving Pictures.
9 Noël Carroll.
Defining the Moving ImagePart III: Documentary.
Introduction.
10 Gregory Currie.
Visible Traces: Documentary and the Contents of Photographs.
11 Noël Carroll.
Fiction, Non-Fiction, and the Film of Presumptive Assertion: A Conceptual Analysis.
Part IV: Film Narrative/Narration.
Introduction.
12 George Wilson.
Le Grand Imagier Steps Out: The Primitive Basis of Film Narration.
13 Gregory Currie.
Unreliability Refigured: Narrative in Literature and Film.
Part V: Film and Emotion.
Introduction.
14 Noël Carroll.
Film, Emotion, and Genre.
15 Kendall Walton.
Fearing Fictions.
16 Alex Neill.
Empathy and (Film) Fiction.
17 Berys Gaut.
Identification and Emotion in Narrative Film.
18 Deborah Knight.
In Fictional Shoes: Mental Simulation and Fiction.
.
Part VI: Topics in Film Criticism.
Introduction.
19 George M. Wilson.
Morals for Method.
20 Paisley Livingston.
Cinematic Authorship.
21 Jinhee Choi.
National Cinema, the Very Idea.
Part VII: Film and Ethics.
Introduction.
22 Joseph H. Kupfer.
Film Criticism and Virtue Theory.
23 Mary Devereaux.
Beauty and Evil: The Case of Leni Riefenstahl's Triumph of the Will.
24 Melinda Vadas.
A First Look at the Pornography: Civil Rights Ordinance: Could Pornography Be the Subordination of Women?.
Part VIII: Film and Knowledge.
Introduction.
25 Bruce Russell.
The Philosophical Limits of Film.
26 Karen Hanson.
Minerva in the Movies: Relations Between Philosophy and Film.
27 Lester H. Hunt.
Motion Pictures as a Philosophical Resource.
Select Bibliography by Jinhee Choi.
Index
"While theoretically inclined film scholars continue to recycle the theories of Lacan and Deleuze, analytical philosophers have quietly assumed the leading edge of film theory. This judicious collection of essays, framed by thoughtful commentaries, provides an ideal introduction to the field of analytic film theory for students of philosophy and film alike."
Richard Allen, New York University
"The philosophy of film and motion pictures has flourished in the last forty years or so, and Carroll and Choi's anthology offers a marvelous overview of the chief issues. This volume assembles many of the best contributions by contemporary philosophers, and will serve as an excellent textbook in relevant courses. I expect it will also be an important stimulus to further research." George Wilson, University of Southern California
Presents key selections from the best contemporary work in philosophy of film
The featured essays have been specially chosen for their clarity, philosophical depth, and consonance with the current move towards cognitive film theory
Eight sections with introductions cover topics such as the nature of film, film as art, documentary cinema, narration and emotion in film, film criticism, and film's relation to knowledge and morality
Issues addressed include the objectivity of documentary films, fear of movie monsters, and moral questions surrounding the viewing of pornography
Replete with examples and discussion of moving pictures throughout