Philosophy of Language, Volume 16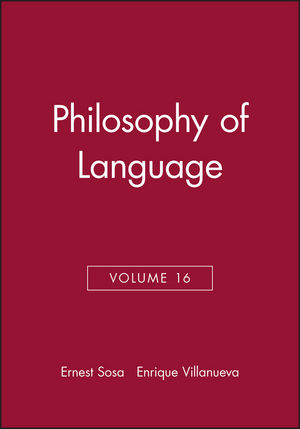 Philosophy of Language, Volume 16
ISBN: 978-1-405-16031-5 January 2007 Wiley-Blackwell 368 Pages
Description
Some of the most distinguished active contributors to the field join together for a collection of their most recent work.



Brings together important new papers by many of the most distinguished philosophers of language

Takes up some of the central issues in the field in recent years

Includes some of the best cutting-edge work in philosophy of language
1. Things and Their Aspects: NICHOLAS ASHER.
2. Now You Know Who Hong Oak Yun Is: DAVID BRAUN.
3. Quotation, Context Sensitivity, Signs and Expressions: HERMAN CAPPELEN AND ERNIE LEPORE.
4. Descriptions with Adverbs of Quantification: DELIA GRAFF FARA.
5. MacFarlane on Relative Truth: RICHARD G. HECK, JR.
6. Sententialism: The Thesis that Complement Clauses Refer to Themselves: JAMES HIGGINBOTHAM.
7. Soames on Descriptive Reference-Fixing: ROBIN JESHION.
8. Singular Terms, Reference and Methodology in Semantics: JEFFREY C. KING.
9. From Sherlock and Buffy to Klingon and Norrathian Platinum Pieces: Pretense, Contextalism, and the Myth of Fiction: PETER LUDLOW.
10. The Meaning of "Water": An Unsolved Problem: WILLIAM G. LYCAN.
11. "Knowledge of Language and Linguistic Competence": ROBERT J. MATTHEWS.
12. Interpreting Concatenation and Concatenates: PAUL M. PIETROSKI.
13. Understanding as Immersion: R. M. SAINSBURY.
14. Terms in Bondage: NATHAN SALMON.
15. Two Perspectives on Knowledge of Language: STEPHEN SCHIFFER.
16. The Philosophical Significance of the Kripkean Necessary Aposteriori: SCOTT SOAMES.
17. Indicative versus Subjunctive Conditionals, Congruential versus Non-Hyperintensional Contexts: TIMOTHY WILLIAMSON.
Symposium.
1. Self-Reflexive Thoughts: GILBERT HARMAN.
2. on Self Referential Thoughts: CHRISTOPHER S. HILL Harman


Brings together important new papers by many of the most distinguished philosophers of language

Takes up some of the central issues in the field in recent years

Includes some of the best cutting-edge work in philosophy of language