Philosophy of Language, Volume 22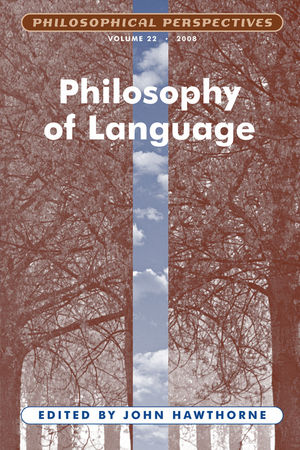 Philosophy of Language, Volume 22
ISBN: 978-1-405-19635-2 February 2009 Wiley-Blackwell 200 Pages
Description
Philosophy of Language: Philosophical Perspectives
brings together state of the art essays to address the key issues at the heart of the philosophy of language and philosophical linguistics, written by some of the top minds in the field
Explores cutting-edge research topics including semantic relativism, presupposition, vagueness, quantification, and the foundations of semantics
Includes contributions from some of the top minds in the field, including Kit Fine, Herman Cappelen and Francois Recanati
Table of contents
ELISABETH CAMP & JOHN HAWTHORNE
Sarcastic 'Like': A Case Study in the Interface of Syntax and Semantics.
HERMAN CAPPELEN The Creative Interpreter: Content Relativism and Assertion.
RICHARD DIETZ Betting on Borderline Cases.
PAUL ELBOURNE The Argument from Binding.
KIT FINE The Impossibility of Vagueness.
KAI VON FINTEL What is Presupposition Accommodation, Again?
CHRISTOPHER GAUKER Against Accommodation: Heim, van der Sandt, and the PresuppositionProjection Problem.
MICHAEL GLANZBERG Quantification and Contributing Objects to Thoughts.
PAUL HORWICH A New Framework for Semantics.
LLOYD HUMBERSTONE Can Every Modifier be Treated as a Sentence Modifier?
STEPHEN KEARNS & OFRA MAGIDOR.
Epistemicism about Vagueness and Meta-Linguistic Safety.
PETER LASERSOHN Quantification and Perspective in Relativist Semantics.
GUY LONGWORTH Comprehending Speech.
STEPHEN NEALE Term Limits Revisited.
FRANCOIS RECANATI Open Quotation Revisited.
DANIEL ROTHSCHILD Presupposition Projection and Logical Equivalence.
ZOLT´AN GENDLER SZAB´O Things In Progress.
BRIAN WEATHERSON Attitudes and Relativism.
ELIA ZARDINI Truth and What Is Said.