Philosophy of Law: Classic and Contemporary Readings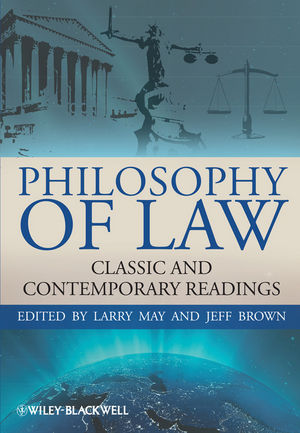 Philosophy of Law: Classic and Contemporary Readings
ISBN: 978-1-405-18388-8
May 2009, Wiley-Blackwell
648 pages
Description
Philosophy of Law provides a rich overview of the diverse theoretical justifications for our legal rules, systems, and practices.
Utilizes the work of both classical and contemporary philosophers to illuminate the relationship between law and morality
Introduces students to the philosophical underpinnings of International Law and its increasing importance as we face globalization
Features concrete examples in the form of cases significant to the evolution of law
Contrasts Anglo-American law with foreign institutions and practices such as those in China, Japan, India, Ireland and Canada
Incorporates diverse perspectives on the philosophy of law ranging from canonical material to feminist theory, critical theory, postmodernism, and critical race theory
Preface.
Source Acknowledgments.
Introduction.
Part I: Legal Reasoning.
Introduction.
1. An Introduction to Legal Reasoning (Edward H. Levi).
2. Remarks on the Theory of Appellate Decision and the Rules or Canons about how Statutes are to be Construed (Karl N. Llewellyn).
3. Formalism (Frederick Schauer).
4. Incompletely Theorized Agreements (Cass R. Sunstein).
5. Custom, Opinio Juris, and Consent (Larry May).
6. Lochner v. New York (1905).
Part II: Jurisprudence.
Introduction.
7. The Concept of Law (H. L. A. Hart).
8. The Model of Rules I (Ronald Dworkin).
9. Law as Justice (Michael S. Moore).
10. The Economic Approach to Law (Richard A. Posner).
11. The Distinction between Adjudication and Legislation (Duncan Kennedy).
12. Critical Race Theory: The Key Writings that Formed the Movement (Kimberlé Crenshaw, Neil Gotanda, Gary Peller, Kendall Thomas).
13. Feminist Legal Critics: The Reluctant Radicals (Patricia Smith).
14. Riggs v. Palmer (1889).
Part III: International Law.
Introduction.
15. International Law (H. L. A. Hart).
16. The Nature of Jus Cogens (Mark W. Janis).
17. A Philosophy of International Law (Fernando R. Tesón).
18. The Limits of International Law (Jack L. Goldsmith, Eric A. Posner).
19. The Internal Legitimacy of Humanitarian Intervention (Allen Buchanan).
20. Humanitarian Intervention: Problems of Collective Responsibility (Larry May).
21. Humanitarian Intervention: Some Doubts (Burleigh Wilkins).
22. Prosecutor v. Tadić (1995).
Part IV: Property.
Introduction.
23. Of Property (John Locke).
24. Locke's Theory of Acquisition (Robert Nozick).
25. Property, Title, and Redistribution (A. M. Honoré).
26. Philosophical Implications (Richard A. Epstein).
27. The Social Structure of Japanese Intellectual Property Law (Dan Rosen, Chikako Usui).
28. Historical Rights and Fair Shares (A. John Simmons).
29. International News Service v. Associated Press (1918).
Part V: Torts.
Introduction.
30. Causation and Responsibility (H. L. A. Hart, A. M. Honoré).
31. Sua Culpa (Joel Feinberg).
32. Fairness and Utility in Tort Theory (George P. Fletcher).
33. Tort Liability and the Limits of Corrective Justice (Jules L. Coleman).
34. A Theory of Strict Liability (Richard A. Epstein).
35. The Question of a Duty to Rescue in Canadian Tort Law: An Answer From France (Mitchell McInnes).
36. Tarasoff v. Regents of University of California (1976).
Part VI: Criminal Law.
Introduction.
37. On Liberty (John Stuart Mill).
38. The Enforcement of Morals (Patrick Devlin).
39. Crime and Punishment: An Indigenous African Experience (Egbeke Aja).
40. The Mind and the Deed (Anthony Kenny).
41. Between Impunity and Show Trials (Martti Koskenniemi).
42. Atrocity, Punishment, and International Law (Mark Drumbl).
43. Defending International Criminal Trials (Larry May).
44. Opening Statement before the International Military Tribunal (1945) (Justice Robert H. Jackson).
Part VII: Contracts.
Introduction.
45. Of the First and Second Natural Laws, and of Contracts (Thomas Hobbes).
46. The Practice of Promising (P. S. Atiyah).
47. Contract as Promise (Charles Fried).
48. Legally Enforceable Commitments (Michael D. Bayles).
49. Unconscionability and Contracts (Alan Wertheimer).
50. South African Contract Law: The Need for a Concept of Unconscionability (Lynn Berat).
51. Williams v. Walker-Thomas Furniture Co. (1965).
Part VIII: Constitutional Law.
Introduction.
52. Constitutional Cases (Ronald Dworkin).
53. Does the Constitution Mean What It Always Meant? (Stephen R. Munzer, James W. Nickel).
54. What's Wrong with Chinese Rights? Toward a Theory of Rights with Chinese Characteristics (R. P. Peerenboom).
55. Poverty and Constitutional Justice: The Indian Experience ( Jeremy Cooper).
56. Natural Law: Alive and Kicking? A Look at the Constitutional Morality of Sexual Privacy in Ireland (Rory O'Connell).
57. Peremptory Norms as International Public Order (Alexander Orakhelashvili).
58. The Gender of Jus Cogens (Hilary Charlesworth and Christine Chinkin).
59. Plessy v. Ferguson (1892).


Utilizes the work of both classical and contemporary philosophers to illuminate the relationship between law and morality

Introduces students to the philosophical underpinnings of International Law and its increasing importance as we face globalization

Features concrete examples in the form of cases significant to the evolution of law

Contrasts Anglo-American law with foreign institutions and practices such as those in China, Japan, India, Ireland and Canada

Incorporates diverse perspectives on the philosophy of law ranging from canonical material to feminist theory, critical theory, postmodernism, and critical race theory