Philosophy of Religion: A Critical Introduction, 2nd Edition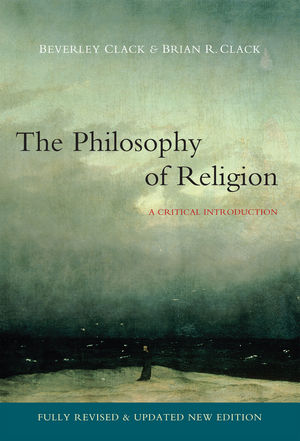 Philosophy of Religion: A Critical Introduction, 2nd Edition
ISBN: 978-0-745-65699-1 March 2014 Polity 244 Pages
Description
The first publication of Beverley Clack and Brian R. Clack's exciting and innovative introduction to the philosophy of religion has been of enormous value to students, as well as providing a bold and refreshing alternative to the standard analytic approaches to the subject. This second edition retains the accessibility which made it popular for both teachers and students, while furthering its distinctive argument that emphasises the human dimension of religion.

The text has been fully revised and updated. The traditional emphasis on the arguments for the existence of God is reflected in a newly extended and reworked investigation into natural theology. Recent developments in the subject are also reflected in updated chapters, and, in a move that highlights the originality of the authors' approach, they offer a critical engagement with current world events. An entirely new concluding chapter interrogates the connection between religion and terror, and demonstrates how philosophy of religion might be conducted under the terrible shadow of 9/11.

This new edition of The Philosophy of Religion will continue to be essential reading for all students and practitioners of the subject.
Preface to 2008 edition.
Preface to first edition.
Acknowledgements.
Chapter 1: Religious Belief and the Philosophy of Religion.
I What is Religion?.
II The Philosophy of Religion.
III Developing the Concept of God.
Chapter 2: Natural Theology.
I Arguments for the Existence of God.
II The Divine Attributes.
III The Human Dimension of Natural Theology.
Chapter 3: Challenges to Theism.
I Evil.
II Natural Histories of Religion.
III Religious Language and Verification.
Chapter 4: Alternative Approaches to the Philosophy of Religion.
I Revisionary Accounts of God.
II Wittgenstein and the Philosophy of Religion.
III Feminism and the Philosophy of Religion.
Chapter 5: Divine Action and Beyond.
I Miracles.
II Immortality.
Chapter 6: Philosophy of Religion in an Age of Terror.
I Religious Belief and Terrorism.
II Terror, Transience and the Human Animal: Towards a Humanist Revision of Religion.
"An extremely accessible narrative for newcomers to the field, the book also provides a critical review for the more advanced."
Religious Studies Review
"The Clacks have produced a clear, systematic, highly critical approach to philosophy of religion, covering the traditional and contemporary issues in the field, as well as offering more attention to the naturalist critique of traditional religious belief."
Charles Taliaferro, St. Olaf College
A fully revised and updated edition of a successful introductory textbook on the philosophy of religion.


Is widely adopted both at A level and 1st year undergraduate level.


Covers all of the specification for the revised philosophy of religion option at A level and assumes no previous knowledge of philosophy.


The new edition includes an entirely new final chapter on religion and terrorism, and discusses the implications of 9/11 for the study of the philosophy of religion.