Philosophy of Religion: Classic and Contemporary Issues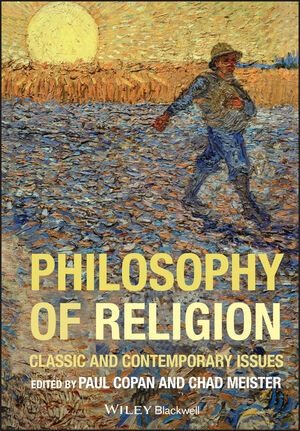 Philosophy of Religion: Classic and Contemporary Issues
ISBN: 978-1-405-13989-2 October 2007 Wiley-Blackwell 296 Pages
Description
Philosophy of Religion: Classic and Contemporary Issues offers a comprehensive and authoritative overview of the most important ideas and arguments in this resurgent field.



Provides a solid foundation on the history of religious philosophy while broadening our understanding of religion's significance in today's world

Features 18 newly-commissioned essays by well-known scholars with varied viewpoints on the philosophy of religion

Examines the evolution of religious philosophy from it roots to contemporary issues while expanding its analysis to include non-Western religious themes

Includes charts, questions, and annotated suggested readings to stimulate further study and reflection
Notes on Contributors.
Introduction.
Part I: Religious Experience and Knowledge:.
1. The Epistemology of Religious Experience: William E. Mann.
2. Religion and Science: John Polkinghorne.
3. Reformed Epistemolog: René van Woudenberg.
4. Religious Pluralism: Joseph Runzo.
5. Religious Exclusivism: Harold Netland.
Part II: The Existence of God:.
6. The Cosmological Argument: William Lane Craig.
7. The Teleological Argument: Robin Collins.
8. The Ontological Argument: Graham Oppy.
9. The Moral Argument: Paul Copan.
10. The Evidential Argument from Evil: Paul Draper.
11. A Naturalistic Account of the Universe: Quentin Smith.
Part III: The Nature and Attributes of God:.
12. The Coherence of Theism: Charles Taliaferro.
13. The Impossibility of God?: Robin Le Poidevin.
14. God, Time, and Freedom: Katherin A. Rogers.
15. Divine Hiddenness, Death, and Meaning: Paul K. Moser.
Part IV: Emerging Themes:.
16. Continental Philosophy of Religion: Bruce Ellis Benson.
17. Eastern Philosophy of Religion: Gavin Flood.
18. Feminist Philosophy of Religion: Pamela Sue Anderson.
Appendix.
Index
"This new range of specially commissioned articles by leading philosophers of religion brings us right up to date on traditional and new topics in the field. Students and teachers alike will find most profitable this comprehensive guide to both classic and current debate and literature."
Harriet Harris, University of Oxford<!--end-->
"This has considerable potential as a course textbook … Handy route map for middle- to upper-level undergraduates." Times Higher Education Supplement

"An invigorating, wide-ranging, and cutting edge volume. Its clear and carefully structured essays shed considerable light on issues old and new. The book will excite both neophytes and experts."
David Shatz, Yeshiva University

"This is a remarkably wide-ranging volume of essays by a distinguished team of experts in the philosophy of religion. It will be indispensable for teachers and students of the subject and of great interest to specialists in the field."
E. J. Lowe, Durham University


Offers an authoritative, comprehensive, and well-balanced guide to the philosophy of religion

Provides a solid foundation on the history of religious philosophy while broadening our understanding of religion's significance in today's world

Features 18 newly-commissioned essays by well-known scholars with varied viewpoints on the philosophy of religion

Examines the evolution of religious philosophy from it roots to contemporary issues while expanding its analysis to include non-Western religious themes

Includes charts, questions, and annotated suggested readings to stimulate further study and reflection