Philosophy of Religion: The Big Questions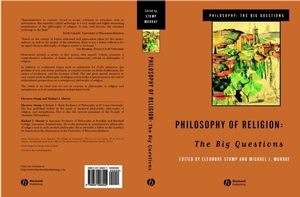 Philosophy of Religion: The Big Questions
ISBN: 978-0-631-20603-3
Mar 1999, Wiley-Blackwell
504 pages
Description
This book contains a collection of the essential readings treating both classic and contemporary issues in philosophy of religion.
1. What Would Anything Have To Be In Order To Be God?
.
Omniscience.
Omnipotence.
Perfection.
Eternity.
2. Can We Show By Reason That There Is A God?.
Ontological Argument.
Cosmological Argument.
Teleological Argument.
The Evolutionary Anti-naturalism Argument.
The Argument from Religious Experience.
3. Doesn't All The Evil In The World Show That There Is No God?.
The Problem. Defence.
Theodicies.
Alternative Perspectives.
4. What Is The Relation Of Reason To Religious Belief?.
Evidentialism.
Religious Belief As Basic.
Pascal's Wager.
5. Can We Make Sense Of Religious Doctrines And Practices Miracles?.
Prayer.
Soul.
Revelation.
6. Can Morality Have A Religious Foundation?.
7. How Should Religion, Gender, And Ethnic Diversity Influence Our Thinking About Religion?
"More advanced students will find this a valuable collection."
Jeff Astley, Theology
"This book will help fill the need of those who want a collection of brief and generally interesting samples taken from what the editors find important in recent literature." David A. Pailin, The Expository Times
"Representative in content, broad in scope, coherent in structure, rich in information, this superbly crafted anthology is a very useful and highly interesting presentation of the philosophy of religion. It may well become the standard anthology in this field." Keith Yandell, University of Wisconsin-Madison
"Based on a variety of topics addressed and approaches taken by the essays' authors, as well as the quality of the selections, there is not a better collection for an upper-division philosophy of religion course to be found." Jon Kvanvig, Texas A & M University


Takes advantage of the most up-to-date sources.


Pays special attention to diverse perspectives in contemporary philosophy of religion.


Includes selections on topics which are just beginning to receive a significant measure of attention such as divine hiddenness, the doctrine of hell, the fine-tuning design argument, revelation, and Plantinga's evolutionary and naturalism argument.