Philosophy of Social Science: The Methods, Ideals and Politics of Social Inquiry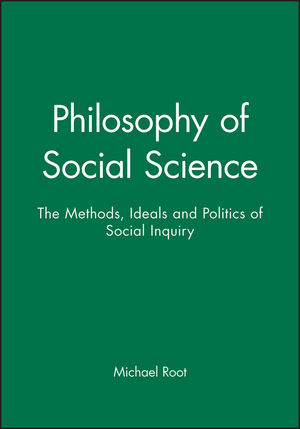 Philosophy of Social Science: The Methods, Ideals and Politics of Social Inquiry
ISBN: 978-0-631-19042-4 December 1993 Wiley-Blackwell 288 Pages
Description
This book is a critical introduction to the philosophy of social science. While most social scientists maintain that the social sciences should stand free of politics, this book argues that they should be politically partisan. Root offers a clear description and provocative criticism of many of the methods and ideals that guide research and teaching in the social sciences.
Table of contents
Introduction.
1. The Liberal Ideal.
2. Max Weber and the Methodology of the Social Sciences.
3. Theories of Development in Psychology and Political Science.
4. Functional Theories in Sociology and Biology.
5. Rational Choice Theories in Positive and Normative Economics.
6. Collecting Data in the Social Sciences.
7. Sorting Data into Kinds.
8. Explaining the Data.
9. The Fact/Vale Distinction.
10. Social Science and Perfectionism.
Bibliography.
Reviews
"This is a very attractive book. It is exceedingly well written. It is well organised; filled with interesting examples; and is quite comprehensive in scope. It contains any number of illuminating observations. Most importantly, its subject is significant, it keeps this subject in focus throughout, and it proposes its own distinctive approach to it."
Brian Fay, Wesleyan University
"Raises so many fascinating and important questions in the philosophies of the social sciences." Marthe Atwater Chandler, Ethics
Features
* A critical introduction to the philosophy of social science.
* Descriptive and critical assessment of methods - ideals of social science.
* Provocative and controversial thesis.