Phobias: A Handbook of Theory, Research and Treatment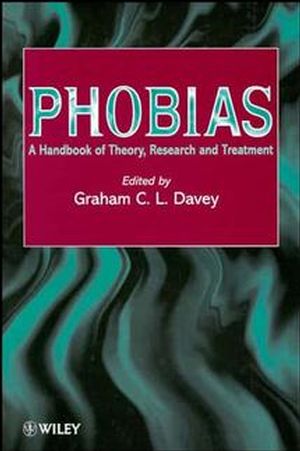 Phobias: A Handbook of Theory, Research and Treatment
ISBN: 978-0-471-96983-9 July 1997 470 Pages
Description
Phobias A Handbook of Theory, Research and Treatment Edited byGraham C. L. Davey University of Sussex, UK
* A complete summary of current knowledge about phobias, for theacademic and clinician
* First comprehensive handbook on the topic for 10 years
* The latest research and findings presented in a singlesource
* Contributions from eminent international clinicians andresearchers
Psychological treatments available for specific phobias have beenrefined considerably in recent years. This extensive handbookacknowledges these treatments and includes the description andnature of prevalent phobias, details of symptoms, prevalence rates,individual case histories, and a brief review of our knowledge ofthe aetiology of phobias. Key knowledge about phobias is broughttogether in this one critical and accessible handbook, which savesthe busy clinician time and provides an authoritative guide to theliterature. It is systematically compiled to act as a working toolproviding an integrated, contemporary account of prevalent specificphobias, their treatment and theoretical issues concerningaetiology. The Handbook also reflects the important role ofcognitive factors in psychopathology which generate and maintainphobic disorders, a process that is now recognized as important intheir understanding and treatment. "The joy of Davey's book is thatit skillfully blends the historical conditioning theory perspectivewith current cognitive-behaviour theories . the result is acomplete summary of current knowledge about phobias, for cliniciansand researchers . an invaluable handbook and an essential summaryof the status of theory, research and treatment in phobias. It ishighly recommended to researchers and to both novice andexperienced clinicians." Roz Shafran, Behaviour Research andTherapy
THE NATURE AND DESCRIPTION OF PREVALENT PHOBIAS.

Social Phobia: A Cognitive Approach (A. Wells & D.Clark).

Agoraphobia (P. Salkovskis & A. Hackmann).

Blood-Injury-Injection Phobia (L. Ost & K. Hellstrom).

Animal Phobias (S. Thorpe & P. Salkovskis).

Dental Phobias (G. Kent).

Water Phobia (R. Menzies).

Height Phobia (R. Menzies).

Accident Phobia (K. Kuch).

Claustrophobia (S. Rachman).

Atypical Phobias (R. McNally).

Specific Phobias in Children (T. Ollendick, et al.).

THE TREATMENT OF PHOBIAS.

Rapid Treatments of Specific Phobias (L. Ost).

A Comparison of Behavioral and Cognitive Treatments of Phobias (M.Craske & M. Rowe).

The Use of Medication in the Treatment of Phobias (P. Hayward &J. Wardle).

GENERAL THEORETICAL PERSPECTIVES ON AETIOLOGY ANDMAINTENANCE.

A Conditioning Model of Phobias (G. Davey).

Evolutionary Models of Phobias (H. Merckelbach & P. deJong).

Unconscious Pre-Attentive Mechanisms in the Activation of PhobicFear (A. Ohman).

The Match-Mismatch Model of Phobia Acquisition (A. Arntz).

Information-Processing Approaches to Phobias (C. Cameron).

The Epidemiology of Fears and Phobias (T. Chapman).

Indexes.