Phobias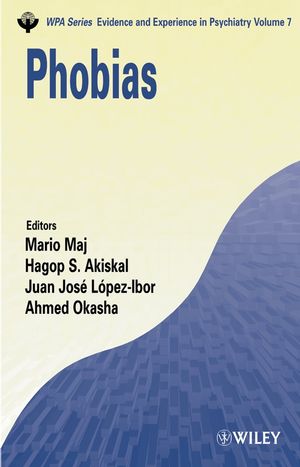 Phobias
ISBN: 978-0-470-85837-0 August 2004 380 Pages
Description
Phobias are increasingly common amongst the general population, sometimes resulting in a very significant social disability and burden for the family. Most cases remain undiagnosed, and many of those which are diagnosed are treated inappropriately.
Written by internationally renowned psychiatrist, Mario Maj, this book provides an update of research evidence and clinical experience concerning agoraphobia, social phobia and specific phobias.
Table of contents
List of Review Contributors.
Preface.
Chapter 1. Diagnosis and Classification of Phobias.
Diagnosis and Classification of Phobias: A Review (Isaac Marks and David Mataix-Cols).
Commentaries.
1.1 Two Procrustean or One King-Size Bed for Co-morbid Agoraphobia and Panic? (Heinz Katschnig).
1.2 Politics and Pathophysiology in the Classification of Phobias (Franklin R. Schneier).
1.3 A Critical Evaluation of the Classification of Phobias (David V. Sheehan).
1.4 The Role of Spontaneous, Unexpected, Panic Attacks in the Diagnosis and Classification of Phobic Disorders (Giulio Perugi and Cristina Toni).
1.5 Anxiety and Phobia: Issues in Classification (George C. Curtis).
1.6 Nosology of the Phobias: Clues from the Genome (Raymond R. Crowe).
1.7 Clusters, Comorbidity and Context in Classification of Phobic Disorders (Joshua D. Lipsitz).
1.8 Comorbidity in Social Phobia: Nosological Implications (Constantin R. Soldatos and Thomas J. Paparrigopoulos).
1.9 Giving Credit to "Neglected" or "Minor" Disorders (Charles Pull and Caroline Pull).
1.10 A Cognitive Approach to Phobias (Jean-Pierre Lépine & Catherine Musa).
1.11 Diagnosis and Classification of Phobias and Other Anxiety Disorders: Quite Different Categories of Just One Dimension? (Miguel R. Jorge).
Chapter 2. Epidemiology of Phobias.
Epidemiology of Phobias: A Review (Gavin Andrews).
Commentaries.
2.1 Risk-Factor and Genetic Epidemiology of Phobic Disorders: A Promising Approach (Assen Jablensky).
2.2 Defining a Case for Psychiatric Epidemiology: Threshold, Non-Criterion Symptoms and Category versus Spectrum (Jack D. Maser and Jonathan M. Meyer).
2.3 Phobias: A Difficult Challenge for Epidemiology (Carlo Faravelli).
2.4 Phobias: Handy or Handicapping Conditions (Peter Tyrer).
2.5 Phobic Disorders: Can We Integrate Empirical Findings With Clinical Theories? (M. Battaglia and A. Ogliari).
2.6 Social Phobia and Bipolar Disorder: The Significance of a Counterintuitive Neglected Co-morbidity (Hagop S. Akiskal and Giulio Perugi).
2.7 Comorbidity Between Phobias and Mood Disorders: Diagnostic and Treatment Implications (Zoltán Rihmer).
2.8 Epidemiology of Phobias: Old Terminology, new Relevance (Laszlo A. Papp).
2.9 Phobias: Reflections on Definitions (Elie G. Karam and Nay G. Khatcherian).
2.10 Phobias: Fact or Fiction? (Rudy Bowen and Murray B. Stein).
2.11 Epidemiology of Phobias: The Pathway to Early Intervention of Anxiety Disorders (Michael Van Ameringen, Beth Pipe and Catherine Mancini).
Chapter 3 Pharmacotherapy of Phobias.
Pharmacotherapy of Phobias: A Review (Dan J. Stein, Bavanisha Vythilingum and Soraya Seedat).
Commentaries.
3.1 Placing the Pharmacotherapy of Phobic Disorders in a New Neuroscience Context (Jack M. Gorman).
3.2 Psychobiology and Pharmacotherapy of Phobias (Rudolf Hoehn-Saric).
3.3 The Neuropsychology of Defense: Implications for Syndromes and Pharmacotherapy (Neil McNaughton).
3.4 Social Phobia: Not Neglected, Just Misunderstood (David S. Baldwin).
3.5 Research in Pharmacotherapy of Social Anxiety Disorder (Siegfried Kasper and Dietmar Winkler).
3.6 Pharmacotherapy for Phobic Disorders: Where Do We Go From Here? (Mark H. Pollack).
3.7 Progress in Pharmacotherapy for Social Anxiety Disorder and Agoraphobi (Bruce Lydiard).
3.8 Psychopharmacology Treatment of Phobias and Avoidance Reactions (Carl Salzman).
3.9 Crowning Achievement: the Rise of Anti-phobic Pharmacotherapy (Murray B. Stein).
3.10 Comorbidity and Phobias: Diagnostic and Therapeutic Challenges (Joseph Zohar).
3.11 Comments on the Pharmacotherapy of Agoraphobia (Matig R. Mavissakalian).
3.12 Pharmacotherapy of Phobias: A Long-term Endeavour (Marcio Versiani).
3.13 Behavioural Toxicity of Pharmacotherapeutic Agents Used in Social Phobia (Ian Hindmarch and Leanne Trick).
3.14 Medication Treatment of Phobias: Theories Hide Effectiveness (James C. Ballenger).
Chapter 4. Psychotherapeutic Interventions for Phobias
Psychotherapeutic Interventions for Phobias: A Review (David H. Barlow, David A. Moscovitch and Jamie A. Micco).
Commentaries.
4.1 Phobias: A Suitable Case for Treatment (Anthony D. Roth).
4.2 Cognitive-Behavioral Interventions for Phobias: what works for whom and when (Richard G. Heimberg and James P. Hambrick).
4.3 Practical Comments on Exposure Therapy (Matig R. Mavissakalian).
4.4. The Treatment of Phobic Disorders: Is Exposure still the Treatment of Choice?(Paul M. G. Emmelkamp).
4.5 "Behavioral experimentation" and the Treatment of Phobias (Yiannis G. Papakostas, Vasilios G. Masdrakis, George N. Christodoulou).
4.6 Evaluating the Durability of Cognitive Behavioral Therapy (Eberhard H. Uhlenhuth, Deepa Nadiga and Paula Hensley).
4.7 Some Comments on Psychological Treatment of Phobias (Lars-Göran Öst).
4.8 Pushing the Envelope on Treatments for Phobia (Michael J Telch).
4.9 Treatment of Phobic Disorders from a Public Health Perspective (Ronald M. Rapee).
4.10 Psychotherapeutic Interventions for Phobia: a psychoanalytic-attachment perspective (Jeremy Holmes).
4.11 Psychotherapy in the Treatment of Phobias: a perspective from Latin America (Flávio Kapczinski).
Chapter 5. Phobias in Children and Adolescents.
Phobias in Children and Adolescents: A Review (Thomas H. Ollendick, Neville J. King and Peter Muris).
Commentaries.
5.1 Childhood Phobias: More Questions than Answers (Michael Rutter).
5.2 Fear, Anxieties and Treatment Efficacy in Children and Adolescents (Rachel G. Klein).
5.3 Where Are All the Fearful Children? (Gabrielle A. Carlson and Deborah M. Weisbrot).
5.4 Etiology and Treatment of Childhood Phobias (Deborah C. Beidel and Autumn Paulson).
5.5 From Development Fears to Phobias (Sam Tyrano and Miri Keren).
5.6 Assessment and Treatment of Phobic Disorders in Youth (John S. March).
5.7 Phobias: From Little Hans to a Bigger Picture (Gordon Parker).
5.8 Phobias in Childhood and Adolescence: Implications for Public Policy (E. Jane Costello).
5.9 Phobias in Children and Adolescents: Data from Brazil (Heloisa H.A. Brasil & Isabel A.S. Bordin).
5.10 Phobias: A View from the South Seas (John Scott Werry).
Chapter 6. Social and Economic Burden of Phobias.
Social and Economic Burden of Phobias (Koen Demyttenaere, Ronny Bruffaerts and Andy De Witte).
Commentaries.
6.1 Burden of Phobias: Focus on Health-related Quality of Life (Mark H. Rapaport, Katia K. Delrahim and Rachel E. Maddux).
6.2 Reducing the Burden of Phobias: Patient Factors, Systems Issues (Naomi M. Simon and Julia Oppenheimer).
6.3 Health-related Quality of Life: Disease-specific and Generic Dimensions in Social Phobia (Per Bech).
6.4 What's So Different About Anxiety Disorders (Such as Phobias)? (Paul E. Greenberg, Howard G. Birnbaum and Tamar Sisitsky).
6.5 Why Take Social Phobia Seriously? (Fiona Judd).
6.6 Phobias in Primary Care and in Young Children (Myrna M. Weissman).
6.7 Treatments are needed to Reduce the Burden of Phobic Illness (Peter P. Roy-Byrne and Wayne Katon).
6.8 Early Diagnosis Can Reduce the Social and Economic Burden of Phobias (Antonio E. Nardi).
6.9 The High Cost of Underrecognition of Phobic Disorders (Julio Bobes).
6.10 Unanswered Questions on Phobias: What Can We Do to Meet the Need? (T. Bedirhan Üstün).
Index.