Phonics Handbook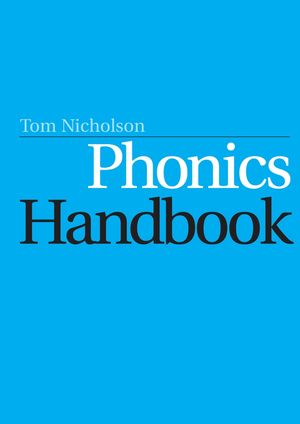 Phonics Handbook
ISBN: 978-1-861-56438-2 February 2006 436 Pages
Description
One in four school students struggle to read. The Phonics Handbook has been written to give assistance to teachers in helping students with reading difficulties. Taking a phonological approach, the book is set out in the form of lesson plans designed to be used instantly, requiring no preparation.

The book is based on the wisdom gained from working with hundreds of students who have attended the author's after-school reading clinic. This is reflected in the practical approach to helping students of all ages including those with English as a second language and those with a range of difficulties including, special needs, motivational and attention problems.

Phonics Handbook includes lesson plans for every phonics skill from the basic alphabet sounds through to blends, digraphs, syllable breaking and decoding Latin and Greek words. Each lesson is followed by a worksheet for students. Using this format, the book incorporates diagnostic assessment to measure what students need at the outset of teaching, as well as measuring whether the tutoring has been effective. Additional teaching strategies are given to reinforce spelling and assist reading comprehension. Strategies for 'hard to teach' students and information on reporting to parents are included, incorporating research on the best tutoring methods.
Introduction.
Acknowledgements.
PART 1: ASSESSMENT AND REPORTING STRATEGIES.
Chapter 1. The importance of a needs assessment: where do I start?
Chapter 2. Student profile.
Chapter 3. Alphabet assessment.
Chapter 4. Gough-Kastler-Roper phonemic awareness assessment.
Chapter 5 Basic decoding skills.
Chapter 6. Informal reading inventory.
Chapter 7. Formal assessment of reading attainment: the Burt Word Reading Test.
Chapter 8. Invented spelling test.
Chapter 9. Story writing task.
Chapter 10. Attitudes to reading.
Chapter 11. Reporting to parents.
PART 2: TEACHING STRATEGIES.
Chapter 12. How to help the difficult student.
Chapter 13. How to teach phonics.
Chapter 14. How to teach spelling.
Chapter 15. How to teach syllabification.
Chapter 16. How to teach comprehension.
Chapter 17. Lesson planning and design for the reading tutor.
Chapter 18. Research on the phonics handbook approach.
PART 3: LESSON PLANS TO TEACH BASIC DECODING SKILLS.
Chapter 19. Phoneme sounds of the alphabet: consonants and short vowel sounds.
Chapter 20. Reading two- and three-letter words.
Chapter 21. Consonant blends.
Chapter 22. Consonant initial and final digraphs.
Chapter 23. Long and short vowel sounds.
Chapter 24. The soft sounds of C and G.
Chapter 25. The r- and l-affected vowels.
Chapter 26. Vowel digraphs: one and two sounds.
Chapter 27. Compund words.
Chapter 28. Silent letters.
Chapter 29. Syllable breaking.
Chapter 30. Greek spellings.
Chapter 31. Latin words.
Chapter 32. Greek words.
PART 4: APPENDICES.
Appendix A: 300 sight words.
Appendix B: Advanced sight words.
Appendix C: Decoding charts.
Index.
"I can see that this text should become a valuable resource for all teachers." (
New Zealand Education Review
, October 2006)
"...immensely valuable..." (SPELD NZ Record, October 2006)
"...this book gives clear guidelines ... very well organised..." (amazon.co.uk, October 2006)
"...a resource that will allow practitioners to assess, plan and implement more focused literacy instruction to those who require it." (The Journal of Reading and Writing, January 2007)