Phosphorus: The Carbon Copy: From Organophosphorus to Phospha-organic Chemistry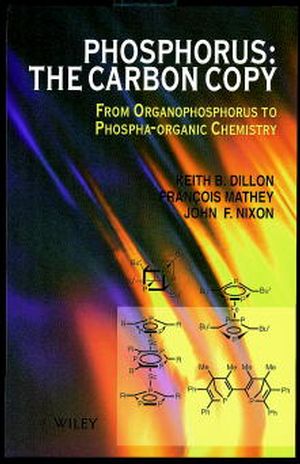 Phosphorus: The Carbon Copy: From Organophosphorus to Phospha-organic Chemistry
ISBN: 978-0-471-97360-7 March 1998 380 Pages
Description
Phosphorus: The Carbon Copy examines the extraordinary similarity between low coordinate phosphorus compounds and unsaturated carbon compounds.
Written by three of the leading researchers in the field of modern phosphorus chemistry, Phosphorus: The Carbon Copy focuses on the interface between phosphorus and the transition metal elements and deals with the most recent aspects of unsaturated organophosphorus compounds and their coordination chemistry.
Aimed at graduate students as well as academic and industrial researchers, this concise volume publicisies the extraordinary potential of these new phosphorus compounds for applications in catalysis, molecular materials and biochemistry.
The Phosphorus-Carbon Analogy: Phospha-organic Chemistry.

Phosphinidenes (R-P).

Terminal Phosphinidene Complexes [R-P=M].

Phosphaalkynes (RCP).

Phosphaalkenes, R¯1R¯2C=PR¯3.

Phosphapolyenes.

Diphosphenes (RP=PR).

Phosphorus-Carbon Heterocyclic Chemistry.

-Coordination Complexes.

What Future for Phosphaorganic Chemistry?

Index.