Photography Production and Appreciation eBookPLUS (Online Purchase), 2nd Edition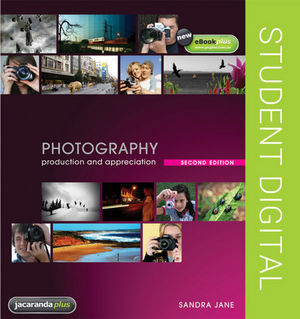 Photography Production and Appreciation eBookPLUS (Online Purchase), 2nd Edition
ISBN: 978-1-742-16403-8
Oct 2009, Jacaranda
400 pages
Product not available for purchase
Description
Photography Production and Appreciation 2E eBookPLUS is an electronic version of the student textbook as well as a complementary set of targeted digital resources. These flexible and engaging ICT activities are available to you online at the JacarandaPLUS website (www.jacplus.com.au).

Your eBookPLUS resources include:
• the entire student textbook in electronic format
• HTML links to other useful support material on the internet

 

What is onlinepurchase?
Onlinepurchase is a Jacaranda digital only product.
Following payment you will receive a registration code via email.
Go to www.jacplus.com.au to register your code and access your digital resource.



Click to view Photography Production and Appreciation 2E Textbook & eBookPLUS.

 

 
PART 1 Making: using skills, techniques and processes

1. The camera and taking photographs
2. Darkroom processes and procedures
3. Digital processes and procedures
4. Developing and refining ideas
PART 2 Creating, exploring and developing ideas
5. Themes in art
PART 3 Presenting
6. Presenting photographs
7. Preservation, conservation and restoration
PART 4 Art criticism and aesthetics
8. Aesthetic elements in photography
9. Discussing and analysing photography
PART 5 Past and present context
10. History of photography
11. The history of Australian photography
12. A close-up look at significant photographers
PART 4 Gallery of student photographs
13. Gallery of student work
PART 7 General Information
14. Facts about photography