Photography and Philosophy: Essays on the Pencil of Nature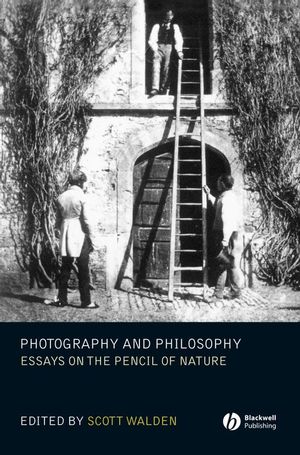 Photography and Philosophy: Essays on the Pencil of Nature
ISBN: 978-0-470-69589-0 April 2008 Wiley-Blackwell 368 Pages
Description
This anthology offers a fresh approach to the philosophical aspects of photography. The essays, written by contemporary philosophers in a thorough and engaging manner, explore the far-reaching ethical dimensions of photography as it is used today.
A first-of-its-kind anthology exploring the link between the art of photography and the theoretical questions it raises

Written in a thorough and engaging manner

Essayists are all contemporary philosophers who bring with them an exceptional understanding of the broader metaphysical issues pertaining to photography

Takes a fresh look at some familiar issues - photographic truth, objectivity, and realism

Introduces newer issues such as the ethical use of photography or the effect of digital-imaging technology on how we appreciate images
Table of contents
Acknowledgments.
List of Figures.
Contributors.
Introduction (Scott Walden, New York University).
1. Transparent Pictures: On the Nature of Photographic Realism (Kendall L. Walton, University of Michigan).
2. Photographs and Icons (Cynthia Freeland, University of Houston).
3. Photographs as Evidence (Aaron Meskin, University of Leeds and Jonathan Cohen, University of California, San Diego).
4. Truth in Photography (Scott Walden, New York University).
5. Documentary Authority and the Art of Photography (Barbara Savedoff, City University of New York).
6. Photography and Representation (Roger Scruton, University of Buckingham).
7. How Photographs "Signify": Cartier-Bresson's "Reply" to Scruton (David Davies, McGill University).
8. Scales of Space and Time in Photography: "Perception Points Two Ways" (Patrick Maynard, University of Western Ontario).
9. True Appreciation (Dominic Lopes, University of British Columbia).
10. Landscape and Still Life: Static Representations of Static Scenes (Kendall Walton, University of Michigan).
11. The Problem with Movie Stars (Noël Carroll, Temple University).
12. Pictures of King Arthur: Photography and the Power of Narrative (Gregory Currie, University of Nottingham).
13. The Naked Truth (Arthur C. Danto, Columbia University).
Epilogue.
Bibliography.
Index.
Reviews
"As a whole,Walden's collection is a valuable addition to the philosophical literature on photography. It is well organized and contains a sustained discussion of many of the more provocative claims that philosophers have made about photography. It is still an open question whether any of these claims are true, but rather than simply dwelling upon the banal truths that we all already agree upon, it is a lot more interesting." (
The Journal of Aesthetics and Art Criticism
, Summer 2010)
"This is a very valuable collection that gathers together a set of articles and issues that should be of general interest to philosophers of art." (
Notre Dame Philosophical Reviews
, February 2009)
"How does one accept or deny 'reality' in photographic excursions? This is the central issue in this extraordinary compilation of 13 essays by contemporary philosophers who argue back and forth (in editor Walden's clever arrangement) so that readers must engage their own minds within the constantly conflicting (theoretical and personal) propositions/explanations. This is a rich, provocative, intelligent, challenging, and important compilation. Highly recommended." (Choice, November 2008)
"Many of the essays are well written and indeed groundbreaking … .Given its overall depth, the anthology is worth reading by any critic, curator or student of the arts." (Prefix Photo, 2008)
"Will enlighten the student and refresh the informed. Contributes greatly to the literature and will occupy a favorite spot on the book shelves." (Metapsychology)
Features


A first-of-its-kind anthology exploring the link between the art of photography and the theoretical questions it raises

Offers a wide range of up-to-date topics on how photography is used today

Written in a thorough and engaging manner

Essayists are all contemporary philosophers who bring with them an exceptional understanding of the broader metaphysical issues pertaining to photography

Takes a fresh look at some familiar issues - photographic truth, objectivity, and realism

Introduces newer issues such as the ethical use of photography or the effect of digital-imaging technology on how we appreciate images