Photojournalism and Today's News: Creating Visual Reality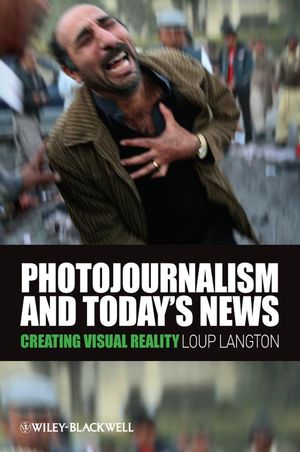 Photojournalism and Today's News: Creating Visual Reality
ISBN: 978-1-118-30738-0 May 2012 Wiley-Blackwell 264 Pages
Product not available for purchase
Description
Photojournalism and Today's News provides a practical guide for aspiring photojournalists as well as an intelligent look into newsroom culture and its influences on photographic assignments, production, and editing. Written by an award-winning photo editor and director of photography, and based on interviews with more than seventy high-profile journalists, this book appeals to students and young professionals alike.
Addresses a wide range of practical issues supported by in-depth examples from the field and critical thinking about photography, journalism, and newsroom culture
Examines social and cultural issues and how they are communicated through photojournalism
Prepares young journalists to respect their visual journalism colleagues by teaching them how to effectively work together
Highlights the expectations of the newsroom and editors
List of Illustrations.
Acknowledgments.
Foreword.
Introduction.
1. Brief History of Photojournalism in the United States.
2. The Visual Newspaper.
3. Construction of Reality.
4. Newsroom Culture and Routines.
5. Economics.
6. Ethics.
7. Relationships: Photographer and Subject.
8. Iraq Wars.
9. Webs and Blogs.
10. Conclusion.
Index
"The critique is well argued and firmly rooted in the work of Roland Barthes, Susan Sontag, Arthur Asa Berger and other philosophers and semioticians who have looked critically at visual mass media. ... The practical advice and lessons about best practices will be exceptionally valuable to anyone—student or recent graduate—who wants to improve and succeed in the profession of photojournalism. (
Global Media Journal
, Autumn, 2009)
"A well balanced introduction to the medium of photojournalism. While important ideals are explored in depth, and 'best practice' encouraged, Langton lends a certain pragmatism to the way in which the work is carried out in the real world. This balance is very helpful for any person with aspirations towards a career in photojournalism." (M/C Reviews, April 2009)
Addresses a wide range of practical issues supported by in-depth examples from the field and critical thinking about photography, journalism, and newsroom culture
Examines social and cultural issues and how they are communicated through photojournalism
Prepares young journalists to respect their visual journalism colleagues by teaching them how to effectively work together
Highlights the expectations of the newsroom and editors