Photoproteins in Bioanalysis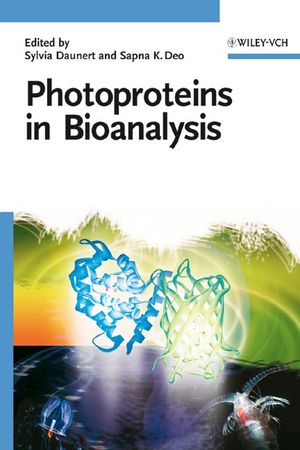 Photoproteins in Bioanalysis
ISBN: 978-3-527-60869-0
Dec 2006
256 pages
Description
The use of light-emitting proteins for the detection of biomolecules provides fast and sensitive methods which overcome the disadvantages of radioactive labels and the high cost of fluorescent dyes.
This reference work summarizes modern advanced techniques and their applications and includes practical examples of assays based on photoproteins. The book presents contemporary key topics like luminescent marine organisms, DNA probes, reporter gene assays and photoproteins, ratiometric sensing, use of photoproteins for in vivo functional imaging and luminescent proteins in binding assays, to name just a few, and is complemented by recent advances in instrumentation.
Includes an introductory chapter by 2008 Chemistry Nobel laureate Osamu Shimomura.
The Photoproteins (by 2008 Nobel Laureate Osamu Shimomura)
Luminous Marine Organisms
Beetle Luciferases: Colorful Lights on Biological Processes and Diseases
Split Luciferase Systems for Detecting Protein-Protein Interactions in Mammalian Cells
Photoproteins in Nucleic Acid Analysis
Bioluminescence Resonance Energy Transfer in Bioanalysis
Photoproteins as in Vivo Indicators of Biological Function
Photoproteins as Reporters in Whole-cell Sensing
Luminescent Proteins in Binding Assays
Applications in Microfluidics and Miniaturized Analytical Systems
Advances in Instrumentation for Detecting Low-level Bioluminescence and Fluorescence
Photoproteins and Instrumentation: Their Availability and Applications in Bioanalysis