Photosensitisers in Biomedicine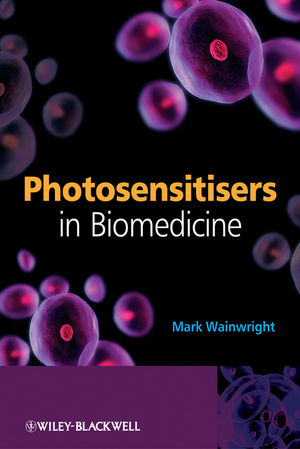 Photosensitisers in Biomedicine
ISBN: 978-0-470-74494-9 March 2009 296 Pages
Download Product Flyer
Download Product Flyer
Download Product Flyer is to download PDF in new tab. This is a dummy description. Download Product Flyer is to download PDF in new tab. This is a dummy description. Download Product Flyer is to download PDF in new tab. This is a dummy description. Download Product Flyer is to download PDF in new tab. This is a dummy description.
Description
Photosensitisers in Biomedicine
offers clear and comprehensive coverage of the many different photosensitiser types, including information on their many applications that now extend beyond anticancer therapy. These applications now include photoantimicrobial treatments not only in microbial disease, but also in the microbial resistance to conventional drugs, which is circumvented by photomicrobial action. The application of photoantimicrobials in biological fluids is also of considerable importance in the current era of HIV and is discussed in the book.
This text offers the most up-to-date coverage of photodynamic therapy including information on how photosensitisers have evolved within the field of cancer therapy and more recently antimicrobial research. There are few books on the market that take the approach of this text, as many are either conference based or focus on the chemistry of photosensitisers.
Photosensitisers in Biomedicine is clearly defined into three distinct parts beginning with a clear introduction to the various types of photosensitisers. The book then moves on to discuss the chemistry of photosensitisers and closes with their numerous applications, for example, photodynamic therapy, photodiagnosis, photodynamic antimicrobial chemotherapy (PACT) and other non-oncological applications such as optical, arterial plaques and stents.
Table of contents
Author's introduction.
PART 1: INTRODUCTION.
1. Light.
1.1 Electromagnetic radiation in everyday life.
1.2 Radiation and tissue.
1.3 Light, electrons and molecules.
1.4 Photoreaction.
1.5 Dental/plastics curing.
1.6 Photoaging/photofading/photobleaching.
References.
2. Dyes and stains.
2.1 Dye use.
2.2 Textile dyeing and biological staining.
2.3 Biological stains and biomedical photosensitisers.
2.4 The human factor.
2.5 Dyes and drug development.
2.6 Dyes and stains and photosensitiser design.
References.
3. Photosensitisers and photosensitisation.
3.1 Photosensitiser action.
3.2 The photodynamic effect and cell death.
3.3 Photosensitising drug discovery.
3.4 Fitness for purpose.
3.5 Organic versus inorganic photosensitisers.
References.
PART 2: CHEMISTRY OF PHOTOSENSITISERS.
4. Azines.
4.1 Acridines.
4.2 Acridine synthesis.
4.3 Rationale.
4.4 Acridines in photodynamic therapy.
4.5 Phenanthridines.
4.6 Phenaziniums.
4.7 Phenoxaziniums.
4.8 Phenothiazinium derivatives.
4.9 Reduction--oxidation activity.
4.10 Hydrophilicity?lipophilicity.
4.11 Molecular planarity.
4.12 Benzannelated derivatives.
4.13 Synthetic approaches.
References.
5. Triarylmethanes and xanthenes.
5.1 Triarylmethanes.
5.2 Victoria blue series.
5.3 Structure and photoproperties in triarylmethanes -- extending the long-wavelength absorption.
5.4 Synthesis.
5.5 Xanthene derivatives.
5.6 Biological uses.
5.7 Rhodamines.
5.8 Rosamines.
5.9 Pyrylium compounds.
5.10 Pyronines.
References.
6. Porphyrins.
6.1 Central metals.
6.2 Meso compounds.
6.3 Amino derivatives.
6.4 Hetero-porphyrins.
6.5 Chlorins.
6.6 Benzoporphyrin derivative.
6.7 Temoporfin.
6.8 Tookad.
6.9 Purpurins.
6.10 Texaphyrins.
6.11 Porphycenes.
6.12 5-Aminolaevulinic acid.
6.13 Esters.
References.
7. Phthalocyanines.
7.1 General features.
7.2 Phthalocyanine synthesis.
7.3 Photosens.
7.4 Naphthalocyanines.
7.5 Hetero-fused systems.
7.6 Silicon derivatives.
7.7 Photoantimicrobial activity.
References.
8. Cyanines.
8.1 Synthesis.
8.2 Merocyanine 540.
8.3 N,N'-bis(2-ethyl-l,3-dioxolane)kryptocyanine.
8.4 Indocyanine green.
8.5 Structural improvement.
8.6 Squaric and croconic acid derivatives.
8.7 Functional cyanines.
References.
9. Natural product photosensitisers.
9.1 Condensed aromatic pigments: perylene- and phenanthroperylenequinones.
9.2 Hypericin-type photosensitisers.
9.3 Hypocrellins.
9.4 Anthraquinones.
9.5 Psoralens (furocoumarins).
9.6 Isoquinoline alkaloid photosensitisers.
9.7 Riboflavin.
9.8 Terthiophenes.
References.
PART 3: APPLICATIONS.
10. PDT in oncology.
10.1 Photosensitisers for use in photodynamic therapy.
10.2 Indications for photodynamic therapy.
10.3 Skin.
10.4 Head and neck.
10.5 Gastrointestinal tract.
10.6 Breast.
10.7 Lung.
10.8 Genitourinary tract and prostate.
10.9 Brain.
10.10 Haematological disease (leukaemia and lymphoma).
10.11 Targeting/formulation.
10.12 Liposomes.
10.13 Biomolecular conjugation.
10.14 Dendrimers.
10.15 Nanoparticles.
10.16 Magnetic targeting.
10.17 Light in photodynamic therapy.
References.
11. Antimicrobial -- PACT.
11.1 Antimicrobial and photoantimicrobial action.
11.2 Applications.
11.3 Blood.
11.4 Thionin/light + low-dose UVB for the decontamination of platelet concentrates.
11.5 The cellular problem.
11.6 A role for photodynamic antimicrobial chemotherapy in tropical medicine?
References.
12. Non-oncological applications.
12.1 Age-related macular degeneration.
12.2 Atherosclerosis.
12.3 Endometreosis.
12.4 Port wine stain.
12.5 Arthritis and autoimmune disorders.
12.6 Photodynamic diagnosis.
12.7 Photocytotoxics and photochemical internalisation.
References.
Index.