Photoshop® 7 SavvyTM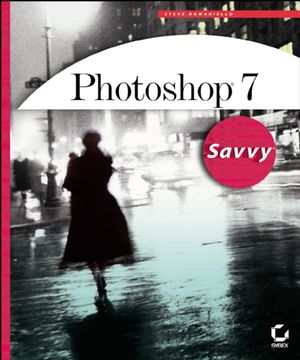 Photoshop® 7 SavvyTM
ISBN: 978-0-782-14110-8
Jul 2002
625 pages
Product not available for purchase
Description
"If subsequent releases are as good as this, the series deserves every success."
--MacFormat UK--November 2002

Savvy - n. Practical know-how.
Just about anyone who works with digital images needs to know to how to use Photoshop. But its complexity can be confounding even to experienced users. In Photoshop 7 Savvy, artist and teacher Steve Romaniello draws back the curtain to reveal the secrets behind Photoshop's power, showing you how to combine theory with practical techniques to get results that are inspirational and satisfying. Whether you're a desktop publisher, graphic artist, printer, photographer, or Web designer, if your goal is to become Photoshop Savvy, this is the book that will get you there.

Work your way through from cover to cover or zero in on a topic, whether you're managing color, retouching images, or creating Web graphics. In Hands On tutorials you'll apply your knowledge to complex real-world projects, mastering the techniques your own projects demand. A 32-page full-color section showcases numerous color-related examples. Coverage includes:

Core Photoshop Skills: selections, type, layers, paths, paint effects, alpha channels, Quick Mask, scanning, transformations.

Photoshop 7's New Features: File Browser, Healing Brush, Auto Color, new paint tools, custom workspaces, Web enhancements.

Image Retouching: Dodge and Burn tools, cloning and healing, History Brush, Dust and Scratches filter.

Color Management and Correction: levels and curves, color mapping, hue and saturation, channel mixing, CMYK conversion, printing.

Photoshop, ImageReady, and the Web: page layout, optimization, image maps, animations, rollovers.

Advanced Techniques: difficult selections, compositing, automation, duotones and spot color, advanced layering, preparing images for digital video.
Introduction.
PART I: PHOTOSHOP CORE.
Chapter 1: The Foundations of Photoshop.
Chapter 2: What's New in Photoshop 7.
Chapter 3: The Nature of the Beast.
Chapter 4: Navigation: Know Where to Go.
Chapter 5: Setting Up Photoshop.
Chapter 6: Making Selections.
Hands On 1: Making Selections.
Chapter 7: Layering Your Image.
Chapter 8: Working with Type.
Hands On 2: Layers and Type.
Chapter 9: Drawing Paths.
Chapter 10: Creating and Applying Color.
Chapter 11: Altered States: History.
Hands On 3: Painting, Paths, and History.
Chapter 12: Using Channels and Quick Mask.
Hands On 4: Channels.
Chapter 13: Sizing and Transforming Images.
Chapter 14: Capturing Images.
PART II: PHOTOSHOP COLOR.
Chapter 15: Color Management and Printing.
Chapter 16: Adjusting Tonality and Color.
Chapter 17: Modifying and Mapping Color.
Hands On 5: Image Size, Transformation, and Color Adjustment.
Chapter 18: Duotones and Spot Color.
Hands On 6: Duotones and Spot Color.
PART III: PHOTOSHOP SAVVY.
Chapter 19: Photo Retouching.
Hands On 7: Restoring a Color Photograph.
Chapter 20: Using Filters.
Chapter 21: Making Difficult Selections.
Chapter 22: Advanced Layer Techniques.
Hands On 8: Advanced Layers.
Chapter 23: Automating the Process.
Chapter 24: Overlay Techniques.
PART IV: PHOTOSHOP, WWW, AND DV.
Chapter 25: Web Design with Photoshop and ImageReady.
Hands On 9: Web Design and ImageReady.
Chapter 26: Photoshop and Digital Video.
PART V: APPENDICES.
Appendix A: Tool Descriptions.
Appendix B: File Formats.
Appendix C: Blending Modes.
Appendix D: Quick Keys.
Glossary.
Index.
Chapter
Page
Details
Date
Print Run
CD
Referenced Chapter 17 files missing from the CD.
Pg. 345 - roses.psd
Pg. 346 - fish.psd
Pg. 348 - recolor.psd

These missing files can be found in the Downloads section.

---