Photoshop® Elements 2 Solutions: The Art of Digital Photography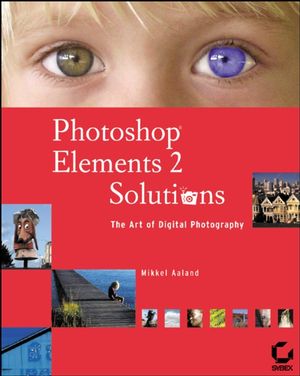 Photoshop® Elements 2 Solutions: The Art of Digital Photography
ISBN: 978-0-782-14140-5
Sep 2002
302 pages
Product not available for purchase
Description
Photoshop Elements is Adobe's newest image-editing software. Based on the immensely popular, and much more expensive Photoshop, Elements provides low-cost ($99 or less), powerful, easy-to-use tools for creating professional-quality digital images. Photoshop Elements X Solutions gives any Elements user solutions for frequently encountered problems. Its stunning full-color imagery will teach and inspire. Topics include: making the most of new Photoshop Elements X features; improving portraits, landscapes, real estate, and product shots; creating panoramas; working with type; and creating the best prints.
Chapter 1: Up and Running with Photoshop Elements.
Chapter 2: Your Images: Global Solutions and Considerations.
Chapter 3: Better Faces.
Chapter 4: Better Outside Shots.
Chapter 5: Better Product Shots.
Chapter 6: Making Photo-Realistic Composites.
Chapter 7: Better Real Estate Shots.
Chapter 8: Creating Panoramics with Photomerge.
Chapter 9: Taking Type Further.
Chapter 10: Working with the Web in Mind.
Chapter 11: Making Great JPEGs.
Chapter 12: Sharing and Processing Images.
Appendix A: Reference to the Tools and Features of Photoshop Elements.
Index.
About the Author.
What's on the CD-ROM.
Chapter
Page
Details
Date
Print Run
Combined Errata


Page 0CD

Image 4.16 is the retouced image not the origial. You can download the original image from:

Page 4

Para 1, line 1, "sRGB" should read "RGB"

Page 5

Fig. 1.2, incorrect screen shot shown. .
Author:

The screen shot is wrong. These are the
options that were available in one of the last beta copies of PSE 2.0 that we were working with. Apparently Adobe limited the options at the last minute and we didn't catch the change before going to press. This will be corrected in the next printing of the book.
Mikkel

Page 159

Bottom of page should read: "...get near instant access to the brush palette by right clicking anywhere..."

Page FAQ

Link for Shockwave Flash - http://www.macromedia.com/shockwave/download/download.cgi?P1_Prod_Version=ShockwaveFlash

Page OCD

Image 3.34 is a partially restored image not the original. You can download the original from:

---