Photoshop® Elements 4 Gone Wild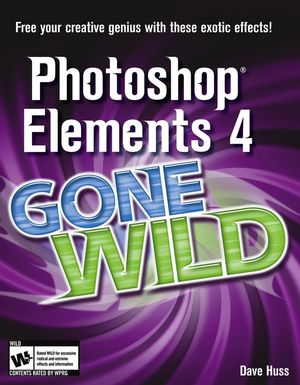 Photoshop® Elements 4 Gone Wild
ISBN: 978-0-764-59991-0
Mar 2006
246 pages
Product not available for purchase
Description
In the author's own words, this book is crazy. In it you'll find over fifty ways to turn sensible pictures into incredible photo fantasies—and do it so well that the trickery is virtually undetectable. Build the perfect body without visiting the gym. Combine characteristics of different people to create photographic offspring. Give a new meaning to "boilerplate" type. Become a photo cubist. If you are well-versed in the basics of using Photoshop Elements, this book will let you alter reality. Wild!
Design a magazine cover featuring your face, or put your best buddy on a $50 bill
Make a photo look like a still from a 1950s TV show or a 19th century tintype
Encase objects in glass spheres or turn a photo into a watercolor or sketch
Turn a still photo into a sports action shot or completely change the background
Trick out text to look gold-plated, chiseled in stone, pounded out of metal, or as if it came from an old typewriter
One: Media Exposure.
Magazine Cover Layout.
At the Movies.
Pulp Fiction.
Pulp Fiction II.
The Stamp Act.
We're on the Money.
Making It in Television.
Making It on HDTV Television.
15 Minutes of Infamy.
Two: Morphing and Cloning Around.
How Are You Fixed for Blades?
Family Resemblance.
A Head for Figures.
I Vant to Pump You Up.
Morphing Steer Horns.
Three: Eye Trickery.
Photos Cubed.
Variations of Photos Cubed.
Creating Cool Cones.
I've Been Framed.
Welcome to My World.
Glass Spheres.
Eyeball Highball.
Making Pop-Up Pages.
Four: Wild Photo Effects.
Give Me That Old-Time Photo.
Late Night Church.
Sports in Motion: Faking a Multiple Exposure.
Flower Power.
Alien Sky with Windmills.
Five: Making Photos Into Paintings.
Still-Life Masterpieces.
Producing a True Watercolor Edge.
People Painting.
Master Image for Multiple Effects.
Getting the Lead Out.
A Different Approach to Making Watercolors.
Airbrush Art.
Colored Pencil Drawing.
Faded Poster Print.
Six: Wild Art Effects.
Change My World.
Signs of the Times.
Size Is Relative.
Twisted Steel.
Going Oriental.
Heavy Metal Butterfly.
Seven: Special Effects.
A Walk in the Clouds.
Isolated Color.
Patriotic Eagle.
New Paint Job for Cars.
A Monumental Task.
Producing Puzzling Effects.
Eight: Wild Text Effects.
The Power of Gold.
Opposites Attract.
Old and Dirty Type.
Awesome Power Type.
Stone Cold Text.
Weathered Copper Text.
Twisted Text.
Rock Star Text.