Photoshop® For Right-Brainers: The Art of Photomanipulation, 3rd Edition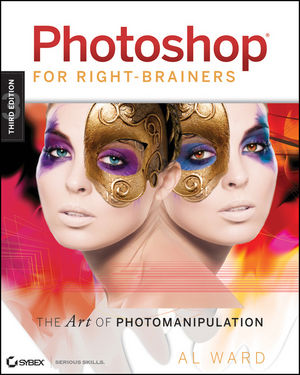 Description
Learn how to tap into the creative part of your brain to create amazing digital art in Photoshop CS4. This exciting, full-color guide is designed especially for artists and photographers who want to harness the thrilling potential of the new release of Photoshop. You'll go beyond cookie-cutter techniques and discover unique ideas for creative expression so you can create melting landscapes, perform face lifts, and find other lesser-known effects. Timesaving techniques allow you to devote more time to the creative process.

Note: CD-ROM/DVD and other supplementary materials are not included as part of eBook file.
Introduction.
Chapter 1 Tools for Building Your Masterpiece.
Using Blending Modes.
Blending Landscapes.
Experimenting with Blending Modes.
Extracting an Image from a Background.
Removing Objects from Their Background.
A New Home.
Working with Layer Masks.
Dynamic Masking.
Absurd Symmetry.
Shades of Gray.
Including Adjustment Layers.
Correcting without Corrupting.
Quick Cartoons.
Displacement Mapping.
Need Direction? Use a Map.
A Peek into a Later Chapter.
Discovering the Power of Blend If.
Summary.
Chapter 2 Techniques for Embellishing Portraits.
Enhancing Eye Color.
Altering Eye Color.
Altering Hair Color.
Variation: Subtly Enhancing Highlights and Natural Hair Color.
Enhancing Lip Color.
Whitening Teeth.
Removing Acne and Blemishes.
Erasing Wrinkles.
Digital Liposuction.
Digital Face-Lift.
Summary.
Chapter 3 A Few Right-Brained Special Effects.
Creating a Glass Sphere.
Forming the Sphere.
Enhancing with Light and Shadows.
Including Imperfections.
Intertwining Objects.
Creating Patterns from Photos: Victorian-Style Patterns.
Time to Mask.
Digitized Symmetry.
Generating Metal Objects and Text.
Heavy Metal Text.
Quick and Painless Variations.
Make It Shine.
Generating Plastic or Glass from Scratch.
Summary.
Chapter 4 Texture, Color, and Layer Effects.
Using Apply Image: Why I Love It.
Enhancing Emotion.
Applying a Technical Background.
Applying a Montage Effect.
Adding Color to Black-and-White Images.
Method 1: Adding a Color Cast.
Method 2: Re-creating the Hand-Tinted Look.
Using Textures and Displacement  Maps.
Aged Paint on a Rough Surface.
Adding Real-World Texture to Skin.
Lightening, Darkening, and Coloring.
Summary.
Chapter 5 Effects in the Real World.
Symmetrical Landscaping.
Symmetry in the Sky.
Patterns in the Sky.
Nature Patterns: Apply Image.
Creating a Neon Reflection on Water.
Blending the Photos into a New Scene.
Adding Liquid Transparency.
Changing the Mood.
From Calm to Creepy: The Graveyard.
Darkening Another Calm Scene.
Summary.
Chapter 6 Animals.
Comical Critter Alteration.
Attack of the Giant Bug—in 3D!
Creature out of Place.
Crossbreeding Species: Human Lioness.
Crossbreeding Species 2: Pegasus.
Summary.
Chapter 7 Digital Alterations and Manipulations.
Digital Woman.
Beginning the Process.
Adding the Logo.
Common Images in Art.
Enhanced Close-up: Macro Art.
Summary.
Chapter 8 Going Beyond Canned Filters.
Retro Photo: Aging.
Creating Surface Cracks.
Finishing It Up.
Photo to Line Art: Sketching.
Power of the Brush: Creating and Painting with Custom Brushes.
Painting with Flowers.
Testing the Brush.
Portrait to Painting: Artistic.
Summary.
Chapter 9 People as Art: Digital Manipulation.
Checkered Woman.
Zebra-Woman.
Cyborg: Digital Distortions.
Preparing the Head.
Relocating the Subject.
Flesh to Stone.
Summary.
Chapter 10 Digital Intensive: Fast and Furious Projects.
Project 1: Photorealistic Framing.
Layering the Frame Elements.
Project 2: Changing Photos into Photoshop Presets.
Project 3: Little Monsters.
Parting Thoughts.
Appendix A Accessing Additional Resources.
Appendix B About the Companion CD.
Index.