Photoshop® for Right-Brainers: The Art of Photo Manipulation, 2nd Edition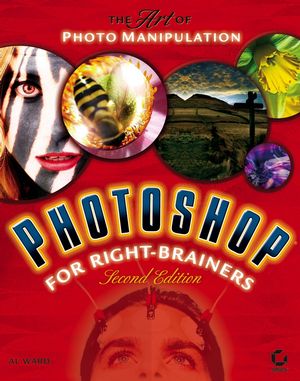 Photoshop® for Right-Brainers: The Art of Photo Manipulation, 2nd Edition
ISBN: 978-0-782-14430-7
Dec 2005
352 pages
Product not available for purchase
Description
"Al Ward's innovative and personal guide to the art of photo manipulation doesn't just tell you how to do it...he gives you something to chew on, something to dream about."
--Fred Showker, editor/publisher of DT&G magazine

Photoshop for Right-Brainers, Second Edition goes beyond the cookie-cutter techniques and shows you how to take full advantage of Photoshop's powerful capabilities. With more novel projects and striking artwork, additional advanced techniques, and hundreds of new actions for automating tedious tasks, this revised edition will help you unlock pathways to creativity.
You'll get a firm grounding in key tools and techniques, then hone your skills by working through complex projects. By the end you'll be able to bring your artistic and fanciful visions to life on your computer to generate your own mind-blowing photographic art.

Photoshop wiz Al Ward will teach you pro techniques for creating dramatic images, including how to:
* Expertly blend multiple photographs into realistic composites
* Add sharpness and detail to any image
* Give your portraits digital face-lifts: soften wrinkles, erase blemishes, whiten teeth
* Create mind-boggling mirror effects
* Control reflections and highlights as you manipulate chrome and glass surfaces
* Turn any photograph into a line drawing, oil painting, or retro image
* Produce symmetrical landscaping and patterns in the sky
* Transform people into frightening characters
* Invent comical cross-breed species by altering animal photos
* Prepare your artwork for display online or in printed contact sheets and picture packages
* And much more!

The CD features more than 400 productivity-enhancing Photoshop actions designed by the author, along with images and project files from the book, as well as exceptional stock images.
Introduction.
Chapter 1: Tools for Building Your Masterpiece.
Using Blending Modes.
Extracting an Image from a Background.
Working with Layer Masks.
Including Adjustment Layers.
Displacement Mapping.
Discovering the Power of Blend If.
Chapter 2: Techniques for Embellishing Portraits.
Enhancing Eye Color.
Variation: Enhancing Lip Color.
Altering Eye Color.
Altering Hair Color.
Whitening Teeth.
Removing Acne and Blemishes.
Erasing Wrinkles.
Digital Liposuction.
Face Swapping.
Digital Face-Lift.
Chapter 3: A Few Right-Brained Special Effects.
Creating a Glass Sphere.
Making a Chrome Sphere: Digital Manipulation.
Creating Patterns from Photos: Floor Tiles.
Generating Metal Text from Scratch.
Generating Plastic from Scratch.
Chapter 4: Texture, Color, and Layer Effects.
Using Apply Image: Why I Love It.
Applying a Technical Background.
Applying a Montage Effect.
Adding Color to Black-and-White Images.
Method 1: Adding a Color Cast.
Method 2: Re-creating the Hand-Tinted Look.
Using Textures and Displacement Maps.
Adding Real-World Texture to Skin.
Creating Brush Effects by Using Photo Elements.
Lightening, Darkening, and Coloring.
Chapter 5: Effects in the Real World.
Symmetrical Landscaping.
Patterns in the Sky.
Nature Patterns: Apply Image.
Creating a Neon Reflection on Water.
Changing the Mood.
Chapter 6: Animals.
Comical Critter Alteration.
Attack of the Giant Bug—in 3D!
Creature out of Place.
Crossbreeding Species.
Crossbreeding Species 2: Pegasus.
Chapter 7: Digital Alterations and Manipulations.
Digital Woman.
Enticement: Reverse Advertising.
Common Images in Art.
Enhanced Close-up: Macro Art.
Chapter 8: Going beyond Canned Filters.
Retro Photo: Aging.
Photo to Line Art: Sketching.
Pencil Drawings.
Pen-and-Ink Art.
Portrait to Painting: Artistic.
Anime Woman: Vector Art.
Chapter 9: People as Art: Digital Manipulation.
Chex-Girl: Impressionist.
Zebra-Woman: Adventures in Advertising.
Cyborg: Digital Distortions.
Flesh to Stone.
Chapter 10: Digital Intensive: Crash-Course Projects.
Project 1: Contrast Woman.
Project 2: Portrait Collage.
Project 3: From Photo to Graffiti.
Appendix: Managing and Displaying Your Work.
Using the Bridge.
Displaying Your Work.
Web Photo Gallery.
Adding Metadata to an Image.
PDF Presentation.
Contact Sheet II.
Picture Package II.
Photomerge.
Accessing Additional Resources.
The Manufacturer's Site.
Information and Discussion Sites.
Photoshop Groups and Organizations.
Adobe Photoshop Tutorials Online.
Stock Images.
Index.
Chapter
Page
Details
Date
Print Run
Missing CD Files
The following components are missing from the CD:

Actions
Custom Brushes
Custom Shapes

These can be found in the Downloads section.

---