Photoshop 5 For Macs For Dummies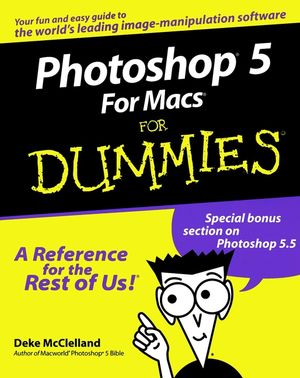 Photoshop 5 For Macs For Dummies
ISBN: 978-0-764-50391-7
Jul 1998
358 pages
Product not available for purchase
Description
Macintosh remains the computer of choice for high-end graphic designers, and Photoshop is still the preferred software program to produce all those professional-quality images. Now, you can create your own quality artwork for fun or profit with the latest version of Photoshop and a copy of Photoshop 5 For Macs For Dummies, written by graphics arts guru Deke McClelland.

Photoshop 5 adds more power and more features to its impressive arsenal of image-editing tools than ever before. Explore the new History palette, magnetic tools, editable text, and layer effects; clean up bad scans and poor-quality pictures; create collages or use the Photoshop program's special painting tricks; and control the resolution and dimensions of an image with ease and sophisticated know-how, thanks to the tips and techniques written in plain English that you'll find on page after page of Photoshop 5 For Macs For Dummies.
Introduction.

PART I: What the . ? Aagh, Help Me!

Chapter 1: Meet Dr. Photo and Mr. Shop.

Chapter 2: Canvassing the On-Screen Canvas.

Chapter 3: Now the Fun Really Begins.

PART II: The Care and Feeding of Pixels.

Chapter 4: Sizing Up Your Image.

Chapter 5: Auntie Em versus the Munchkins (Death Match).

Chapter 6: Save Before You Say Good Night.

Chapter 7: Going to Hard Copy.

PART III: Tiptoe through the Toolbox.

Chapter 8: Paint Me Young, Beautiful, and Twisted.

Chapter 9: Making a Mockery of Reality.

Chapter 10: Cleaning Up Goobers.

Chapter 11: Turning Back the Digital Clock.

PART IV: Select Before You Correct.

Chapter 12: The Great Pixel Roundup (Yee Ha).

Chapter 13: More Fun with Selections.

Chapter 14: Coloring inside the Lines.

PART V: So, You Say You're Serious about Image Editing.

Chapter 15: Layers upon Layers upon Layers.

Chapter 16: Digital Graffiti.

Chapter 17: Forays into Filters.

Chapter 18: Drawing Color from a Dreary Wasteland.

PART VI: The Part of Tens.

Chapter 19: Ten Tricky Techniques to Assign to Memory.

Chapter 20: Ten Amusing Ways to Mess Up a Loved One's Face.

Chapter 21: Ten Things to Do with Your Photoshop Masterpiece.

Photo Credits.

Index.

Book Registration Information.