Photoshop 7 at Your Fingertips: Get in, Get out, Get Exactly What You Need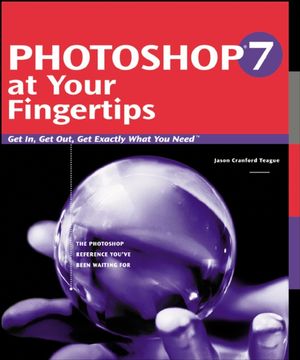 Photoshop 7 at Your Fingertips: Get in, Get out, Get Exactly What You Need
ISBN: 978-0-782-14092-7
Jan 2003
560 pages
Product not available for purchase
Description
Fast Answers—Whatever You Do, However You Work
Jason Cranford Teague and Sybex specially designed Photoshop 7 at Your Fingertips to bring to light the capabilities of this complex, powerful program and to show you the best and fastest ways to get your work done. Inside you'll find:
A visual reference to the Photoshop interface
A complete task-oriented reference to Photoshop, with specific sections for print designers, web designers, and photographers
Clear, step-by-step instruction and time-saving tips
Multiple techniques for each task, to let you work the way that works for you
Every page of this innovative book is focused on getting you the information you need. Its intuitive task-based organization lets you search for what you want to do. Hundreds of cross-references guide you to related topics, and at-a-glance shortcuts and tips provide options and alternatives. And it's all written by an expert author who shares inside knowledge accumulated over years of intensive Photoshop use. Whatever your field or level of experience, you've found the Photoshop reference you've been waiting for.
INTRODUCTION.
Chapter 1: Interface Overview.
Chapter 2: Menus.
Chapter 3: The Toolbox.
Chapter 4: Palettes.
Chapter 5: Presets and Preferences.
Chapter 6: Starting an Image.
Chapter 7: Managing Color and Image Mode.
Chapter 8: Making Selections.
Chapter 9: Image Layering.
Chapter 10: Adding Layer Styles.
Chapter 11: Masking Layers.
Chapter 12: Drawing Paths and Shapes.
Chapter 13: Making Image Adjustments.
Chapter 14: Working with Colors, Gradients, and Patterns.
Chapter 15: Painting in Images.
Chapter 16: Painting with Filters.
Chapter 17: Typography.
Chapter 18: Automation and Workgroups.
Chapter 19: Designing for Print.
Chapter 20: Preparing Images for Print.
Chapter 21: Printing and Prepping for Prepress.
Chapter 22: Working With ImageReady.
Chapter 23: Designing for the Web.
Chapter 24: Designing Web Elements.
Chapter 25: Outputting for the Web.
Chapter 26: Acquiring Images and Color Correction.
Chapter 27: Cleaning, Repairing, and Distorting Images.
Chapter 28: Advanced Compositing Methods.
Chapter 29: Photoshop for Digital Video.
APPENDIX: What¿s New in Photoshop 7 and ImageReady 7.
GLOSSARY.
INDEX.
Chapter
Page
Details
Date
Print Run
Combined Errata,

Page 19

Sidebar keyboard shortcuts for Quit Photoshop, line 2, Ctrl Paste should be Ctrl Q