Photoshop CC For Dummies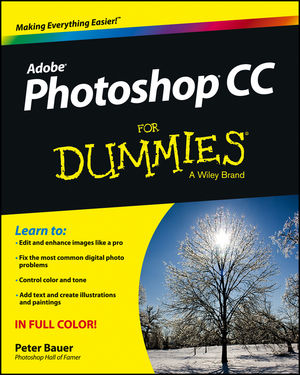 Photoshop CC For Dummies
ISBN: 978-1-118-64575-8
May 2013
448 pages
Product not available for purchase
Description
Stretch your creativity beyond the cloud with this fully-updated Photoshop guide!

Photoshop puts amazing design and photo-editing tools in the hands of creative professionals and hobbyists everywhere, and the latest version - Photoshop CC - is packed with even more powerful tools to help you manage and enhance your images. This friendly, full-color guide introduces you to the basics of Photoshop CC and provides clear explanations of the menus, panels, tools, options, and shortcuts you'll use the most. Plus, you'll learn valuable tips for fixing common photo flaws, improving color quality, adjusting brightness, removing unwanted background elements, and more.
Covers the new Photoshop CC release which brings even more features to over four million photographers, graphic designers, web developers, and other Photoshop professionals
Teaches the essentials for first-time users before moving on to more advanced techniques like removing blemishes and wrinkles, creating composite images, and working with layers, filters, levels, and curves
Walks you through adjusting brightness, enhancing color, adding shadows and highlights, decreasing digital noise, taking advantage of Camera Raw, and optimizing your images for print and the web
The sky's the limit for stunning photos and innovative images with Photoshop CC For Dummies in your design toolbox.
Introduction 1
Part I: Getting Started with Photoshop CC 7
Chapter 1: Welcome to Photoshop! 9
Chapter 2: Knowing Just Enough about Digital Images 21
Chapter 3: Taking the Chef's Tour of Your Photoshop Kitchen 41
Chapter 4: Getting Images into and out of Photoshop 63
Part II: Easy Enhancements for Digital Images 85
Chapter 5: Adding Dark Shadows and Sparkling Highlights 87
Chapter 6: Making Color Look Natural 107
Chapter 7: The Adobe Camera Raw 8 Plug-In 135
Chapter 8: Fine-Tuning Your Fixes 163
Chapter 9: Common Problems and Their Cures 191
Part III: Creating "Art" in Photoshop 207
Chapter 10: Combining Images 209
Chapter 11: Precision Edges with Vector Paths 227
Chapter 12: Dressing Up Images with Layer Styles 251
Chapter 13: Giving Your Images a Text Message 273
Chapter 14: Painting in Photoshop 299
Chapter 15: Filters: The Fun Side of Photoshop 323
Part IV: Power Photoshop 349
Chapter 16: Streamlining Your Work in Photoshop 351
Chapter 17: Working with Video and Animation 369
Part V: The Part of Tens 383
Chapter 18: Ten Specialized Features of Photoshop CC 385
Chapter 19: Ten Reasons to Love Your Wacom Tablet 395
Chapter 20: Ten Things to Know about HDR 401
Index 411
Updates
Please check back here for updates.