Photoshop CS Savvy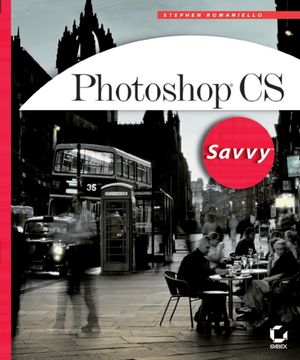 Photoshop CS Savvy
ISBN: 978-0-782-15135-0
Feb 2006
735 pages
Product not available for purchase
Description
Savvy - n. Practical know-how.

Just about anyone who works with digital images needs to know to how to use Photoshop. But its complexity can be confounding even to experienced users. In Photoshop CS Savvy, artist and teacher Steve Romaniello reveals the secrets behind Photoshop's power—showing you how to combine theory with practical techniques to get results that are inspirational and satisfying. Whether you're a graphic artist, photographer, web designer, desktop publisher, or, if your goal is to become Photoshop savvy, this is the book that will get you there.

Work your way through from cover to cover or zero in on any topic, from setting up a Photoshop workflow to restoring old photos to creating a web photo gallery. In Hands On tutorials, you'll apply your knowledge in complex, real-world projects, mastering the techniques your own work demands. A 32-page full-color section showcases numerous color-related examples. Coverage includes:
Core Photoshop Skills: selections, type, layers, paths, paint effects, alpha channels, Quick Mask, scanning, transformations.
Features New in Photoshop CS: Shadow/Highlight correction, photo filters, Match Color, Color Replacement, Liquify enhancements, automations, support for raw camera files.
Image Retouching: Dodge and Burn tools, cloning and healing, History Brush, Dust and Scratches filter.
Color Management and Correction: levels and curves, color mapping, hue and saturation, channel mixing, CMYK conversion, printing.
Photoshop, ImageReady, and the Web: page layout, optimization, image maps, animations, rollovers.
Advanced Techniques: difficult selections, compositing, automation, duotones and spot color, advanced layering, 16-bit editing, preparing images for digital video.
Note:CD-ROM/DVD and other supplementary materials are not included as part of eBook file.
Introduction.
PART I: PHOTOSHOP CORE.
Chapter 1: The Foundations of Photoshop.
Chapter 2: What's New in Photoshop CS.
Chapter 3: The Nature of the Beast.
Chapter 4: Navigation: Know Where to Go.
Chapter 5: Setting Up Photoshop.
Chapter 6: Making Selections.
Hands On 1: Making Selections.
Chapter 7: Layering Your Image.
Chapter 8: Working with Type.
Hands On 2: Layers and Type.
Chapter 9: Drawing Paths.
Chapter 10: Creating and Applying Color.
Chapter 11: Altered States: History.
Hands On 3: Painting, Paths, and History.
Chapter 12: Using Channels and Quick Mask.
Hands On 4: Channels.
Chapter 13: Sizing and Transforming Images.
Chapter 14: Image Capture and Digital Photography.
PART II: PHOTOSHOP COLOR.
Chapter 15: Color Management and Printing.
Chapter 16: Adjusting Tonality and Color.
Chapter 17: Modifying and Mapping Color.
Hands On 5: Image Size, Transformation, and Color Adjustment.
Chapter 18: Duotones and Spot Color.
Hands On 6: Duotones and Spot Color.
PART III: PHOTOSHOP SAVVY.
Chapter 19: Photo Retouching.
Hands On 7: Restoring a Color Photograph.
Chapter 20: Using Filters.
Chapter 21: Making Difficult Selections.
Chapter 22: Advanced Layer Techniques.
Hands On 8: Advanced Layers.
Chapter 23: Automating the Process.
Chapter 24: Overlay Techniques.
PART IV: PHOTOSHOP, WWW, AND DV.
Chapter 25: Web Design with Photoshop and ImageReady.
Chapter 26: Creating Dynamic Web Elements.
Hands On 9: Web Design and ImageReady.
Chapter 27: Photoshop and Digital Video.
Appendix A: Plug-Ins.
Appendix B: Online Resources.
Glossary.
Index.
Coverage Includes:
Core Photoshop Skills: selections, type, layers, paths, paint effects, alpha channels, Quick Mask, scanning, transformations.
Features New in Photoshop CS: Shadow/Highlight correction, photo filters, Match Color, Color Replacement, Liquify enhancements, automations, support for raw camera files.
Image Retouching: Dodge and Burn tools, cloning and healing, History Brush, Dust and Scratches filter.
Color Management and Correction: levels and curves, color mapping, hue and saturation, channel mixing, CMYK conversion, printing.
Photoshop, ImageReady, and the Web: page layout, optimization, image maps, animations, rollovers.
Advanced Techniques: difficult selections, compositing, automation, duotones and spot color, advanced layering, 16-bit editing, preparing images for digital video
Chapter
Page
Details
Date
Print Run
Combined Errata


Page 512,513

Step 10 (Choose Image, Adjustments, Invert to make all the white areas of the channel black, and the black areas white) You need to deselect before you invert, This step was inadvertently left




---